And Now "Goats Yelling Like Humans" [VIDEO]
You just thought your weekend was complete.  It hasn't even began to go from okay to perfect until you've watch a supercut of goats yelling, screaming, and talking.  More after the jump.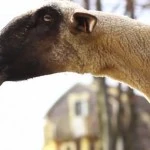 It is creepy how much some of these goats sound like humans.  They sound like the sound you make before diving into cold water or when someone in a mask creeps up on you.  This is some seriously nutty stuff.  And now, two minutes of "Goats Yelling Like Humans".
Subscribe to KFMX FM on