Are You Ready For The Awesomeness Of "Kung Fury?" [VIDEO]
Okay, I don't really know what the hell is going on here. First off, are these actors or CGI or some weird place in the middle. Then you have a Kung Fu guy, Hitler, dinosaurs and a big breasted viking woman. Yeah, it's awesome, but I still don't know what's up.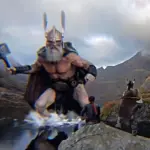 So evidently Kung Fury is being sent back in time with the help of a Nintendo Powerglove (the single lamest video game add-on ever). Other than that, it's like a big stew of bad-assedness. I guess you'll just have to see it for yourself.
Subscribe to KFMX FM on