Brand Spanking New Trailer For Superman Movie "Man OF Steel" Here! [VIDEO]
I'm not much of a comic book geek, but I think I'm on board for this one.  Making Superman into a movie has a always been a problem. Basically you have a goody-goody guy who can't be killed, so where's the drama?  Well this time around apparently the drama will come from General Zod, who is the main "voice" in this trailer. More after the jump.
I love the guy who plays general Zod in this new Superman. His name is Michael Shannon and you may know him from the HBO series "Boardwalk Empire".  Also starring in "Man Of Steel" are Henry Cavill as Clark Kent and Russell Crowe as his space dad.  His earth dad is played by Kevin Costner.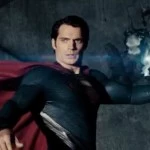 Subscribe to KFMX FM on