Chris Rock Makes Hilarious Video Directed Towards Specific Voters
As I wrote before, I've had it with the election nonsense. At this point it's so hateful on all sides I'm ready for it to be over. This, however, is comedy and it's very funny.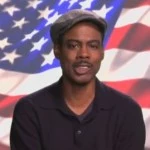 Between this and his recent mini hosting gig on Tosh.0, I'm ready for another Chris Rock special. This guy is just too good to not be kicking out a stand up special every year. Let's at least hope he keeps making funny videos like this one. I don't think this is really political at all. It just points out some things about our current president that you may not have noticed.
Subscribe to KFMX FM on