Comedy Club: Jim Jefferies On "Drinking Games"
Jim Jefferies is a modern day comedy genius. He is one of a very few that can step in and help fill the void left by the passing of George Carlin.  A lot of his stuff is really raunchy, but I chose a clip for you that I think a lot of us can relate to.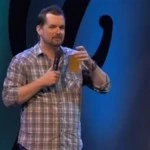 I guess there was a time when I enjoyed "drinking games", but for the most part, I really don't need an excuse to have a tasty beverage.  That's the idea behind this Jim Jeffries bit.  Careful, there's some adult language in this bit.  Enjoy!
Subscribe to KFMX FM on