Golden Corral Takes It To The Next Level With Deep Fried Bacon [VIDEO]
I don't even understand you folks who wish that some chain restaurant you visited in another town would come to Lubbock.  There are so many discoveries still to be made in the Hub City. Heck, we couldn't be more pumped about a new edition to our local Golden Coral.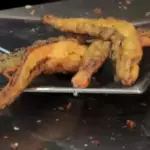 So Heathen and I went to do the power-load breakfast at Golden Coral. We saw something that looked like catfish on the buffet and we thought we might try some on our second or third trips around. At that point, the omelet guy (who will now go down in history as one of the greatest men to ever walk the face of the earth) told us, "you gotta try that deep fried bacon". He further informed us it was best with the cream gravy on it. I opted to use the sausage gravy over the deep fried bacon. It was truly better than sex. I don't mean regular sex either. It was better than really crazy wild sex that involves Las Vegas showgirls, clowns with suction devises and being covered head to toe in lube. We even took the deep fried bacon with sausage gravy up another notch and added some of the candied ham for what Heathen called "three kinds of pig". It was so good and we ate so much that we didn't even make it to the triple desert fountain. Who needs fountains of candy when you have the meat candy that is bacon? Anyways, I included a couple of videos here. First, how to make your own deep friend bacon (and seriously it's better than you expect) and also a look at the candy fountains straight from Willy Wonka's house to your mouth.
http://youtu.be/8slfIQivsoE
Subscribe to KFMX FM on