Ian Moore Live In Lubbock
Ian Moore will be at in town this Friday! It's been years since Ian Moore has played this stage, and quite some time since he's been to Lubbock with his full band!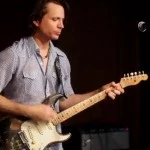 Mastering the fusion between Texas Blues, Rock-n-Roll, avant garde and world music, the genius of Ian Moore will leave you in awe. With Ian and his full band, you can always expect the unexpected! The show kicks off at 7:30pm! Tickets are available online at www.cactustheater.com , or call to reserve your seats today! (806)762-3233 . Stay tuned to 94.5 FMX to hear more about this show.
Subscribe to KFMX FM on
Subscribe to KFMX FM on