Seether Performs "Seether" From The Album "Seether 2002-2013″ [VIDEO]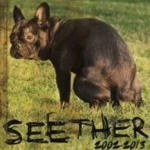 It's like looking into a mirror while you're looking into a mirror and all of a sudden there are hundreds of you looking into a mirror.  Seether has new hits and lost tracks collection coming out. One of the tracks is them performing their namesake track.
I'm kind of undecided on this track. I've like pretty much everything this band has done so far (sorry, I even like their cover of "Careless Whisper").  This only kind of works for me.  But hey, it's never about me, it's about you.  What do you think of Seether performing "Seether"?  Check it out.
Subscribe to KFMX FM on