What Happens When Strangers Kiss? [VIDEO]
I have to admit that this is pretty magical. As a big proponent of "love always being the answer", I seriously recommend this. Could you even imagine a world where you STARTED to get to know someone after you kissed them? I'd probably go unkissed out of shyness, but that's a whole other story.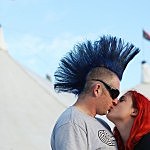 I have to warn you, GAYS KISS IN THIS VIDEO.  I also have to tell you, when you see it, it makes you realize just how normal it is. So let's say, HUMANS KISS IN THIS VIDEO and some happen to be gay.   The situations go from awkward to passionate and back to near awkward in no time at all. It's some pretty beautiful stuff.  I recommend that you let down your guard a bit and enjoy the video.  Then go kiss somebody you love.