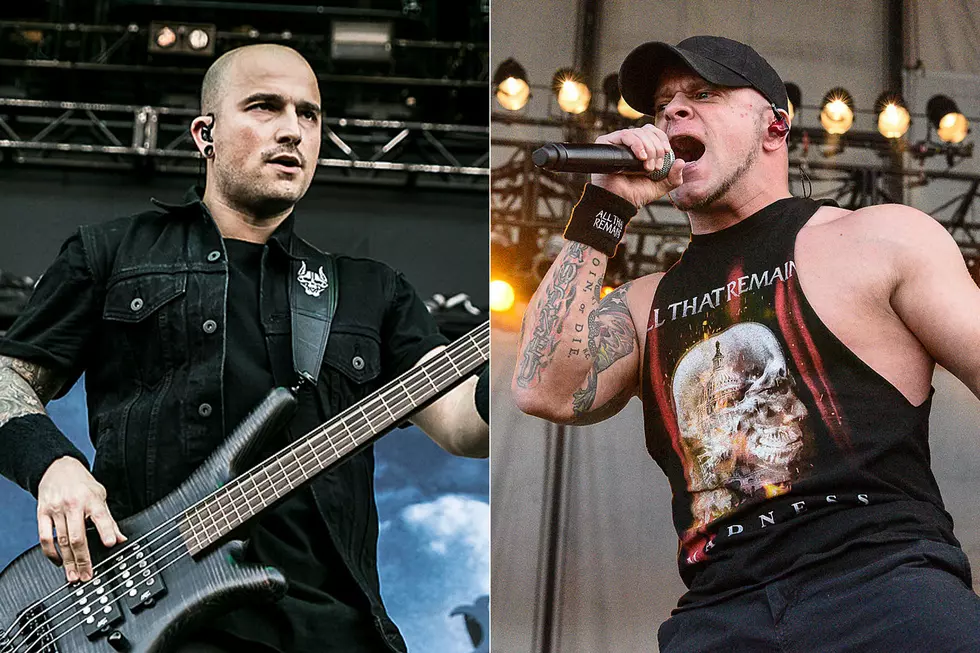 All That Remains Vocalist + Trivium Bassist Beef Continues
Kathy Flynn, WickedGoddessPhotography / Evil Robb Photography
The feud between All That Remains vocalist Phil Labonte and Trivium bassist Paolo Gregoletto ignited earlier this year following Labonte's appearance on InfoWars discussing the topic of gun control. Gregoletto initiated the back and forth, saying "Stick to this and not music @philthatremains."
After a response on Twitter from a fan who stated, "Pffft. Says the dude who plays bass in Trivium... #irrelevant #triviumBLOWS," Gregoletto was quick to point out that the band had "sold out 95% of [their] last tour in America. 40,000 tickets to be exact." That got Labonte engaged, with him adding, "I'm just happy Paolo has time to let us know how great he is." From there, shots were fired and went as far as Labonte actually making a YouTube video addressing Gregoletto directly. In particular, Gregoletto went after Labonte's vocal abilities, or lack-thereof, according to him.
Now, nearly nine months later, it seems that the two still haven't cleared the air with one another. Last night (Nov. 2), Gregoletto served as one of various vocalists that helped fill in for Matt Heafy who left the band's headliner last week to be at home with his pregnant wife. A fan tweeted at Gregoletto following the show. saying, "After [seeing] how amazing of a frontman you can be, I wonder what @philthatremains thinks now? Does he bow down to you?"
Gregoletto favorited the tweet, which prompted Labonte to screenshot and post it with the caption, "It's too bad he still has a chip on his shoulder."
One fan replied to Labonte's tweet, asking, "WTF happened between you guys that he's still pissed?" Labonte responded, "I sang [and] he didn't like it."
Another fan replied, "I still don't understand Gregoletto's motivations here. You have differing opinions so he insults your life's work. You burn him back and he's just a scorned ex now, gobbling up any positive comparisons between you two. I mean, I can't even hear his bass in the mix half the time." Labonte sarcastically responded, "To be fair you can never hear my bass either." (For those who don't know, Labonte doesn't play bass.)
In response to other fans, however, Labonte made it clear that he doesn't have negative feelings toward the other members of Trivium and offered support to Heafy and his wife.