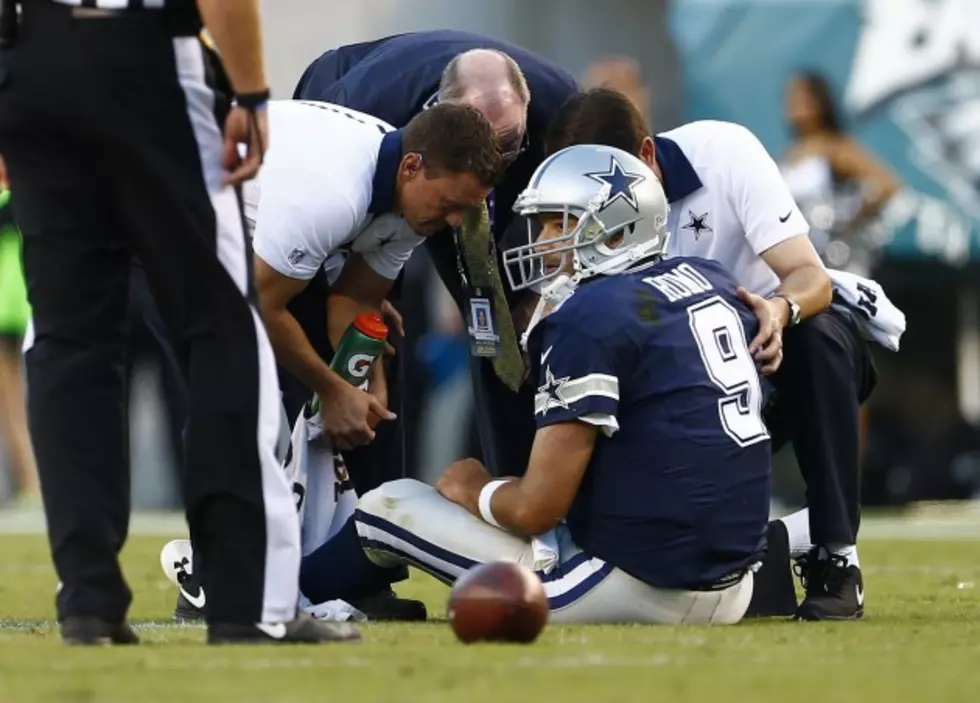 Dallas Cowboys Will Still Make Playoffs Even With Romo Out
Rich Schultz, Getty Images
With Dez Bryant and Tony Romo both hurt, many fans have already written off the Dallas Cowboys. But, this 'true blue' fan still thinks the 'boys have a shot to get in the playoffs.
Let's take a look at the Cowboys' schedule up to November 22nd when Romo and Bryant are expected to be back with the team.
---
September 27th - Atlanta Falcons
The Falcons look pretty tough this year and are currently sitting at 2-0. Plus, they have a freak in Julio Jones who should scare even the best defenses. If the Cowboys can keep Julio Jones in check, they might have a chance. But, the Dallas offense will have a little trouble moving the ball against a pretty stout Falcons defense. Cowboys will fall to 2-1.  Falcons-20 Cowboys-10
---
October 4th - New Orleans Saints
Even with Drew Brees under center, I just don't think the Saints are that good anymore. The Cowboys defense should be able to stuff New Orleans throughout most of the game. And, this should be the game where Joseph Randle will finally get over 100 yards. Cowboys go to 3-1. Cowboys-21 Saints-17
---
October 11th - New England Patriots
This will be the biggest test for the Dallas Cowboys defense. And, though I am hopeful that it won't go bad, I just think Tom Brady will be too much. Offensively, the Cowboys will struggle to get anything going and this will probably be a little lopsided. Good thing they have a bye the next week. Cowboys fall to 3-2. Patriots-31 Cowboys 10
---
October 25th - New York Giants
The first meeting was a sloppy one as both teams looked pretty bad. This time around Greg Hardy and the Dallas defense be all over Eli Manning like white on rice. Offensively, I think the Cowboys will run the ball with ease and should be able to pull out a pretty decisive win to move to 4-2. Cowboys-24 Giants-10
---
November 1st - Seattle Seahawks
If "Beast Mode" (Marshawn Lynch) is able to run the ball easily, the Cowboys are going to have a long day. Plus, the Seahawks are one of those teams that can score from anywhere on the field at any given time. Still, the Dallas defense, once again, will keep the 'boys in the game. But, in the end, they will fall to 4-3 in a surprisingly close game. Seahawks-23 Cowboys-20
---
November 8th - Philadelphia Eagles
Hopefully this will be a lot better game than the first meeting as both teams were about as sloppy as could be. The Cowboys will once again focus their attention on DeMarco Murray who will probably do a little better. And, if Sam Bradford is still the starting quarterback at this time, he will struggle against a defense that should be one of the best at this time of the season. Cowboys will win at home to go 5-3. Cowboys-24 Eagles-17
---
November 15th - Tampa Bay Buccaneers
The Buccaneers seem to have made the right move in the draft to get stud quarterback, Jameis Winston. If the Cowboys are able to control the rookie, I think they should be able to come out on top and move to 6-3. Cowboys-23 Buccaneers-13
---
If my predictions are correct, the Cowboys would be in great shape by the time Romo and Bryant come back to the team.
So, stay positive Dallas Cowboys fans, we just have to get through 8-10 weeks. Heck, if we can wait decades to get into the playoffs, we can wait that long, right?