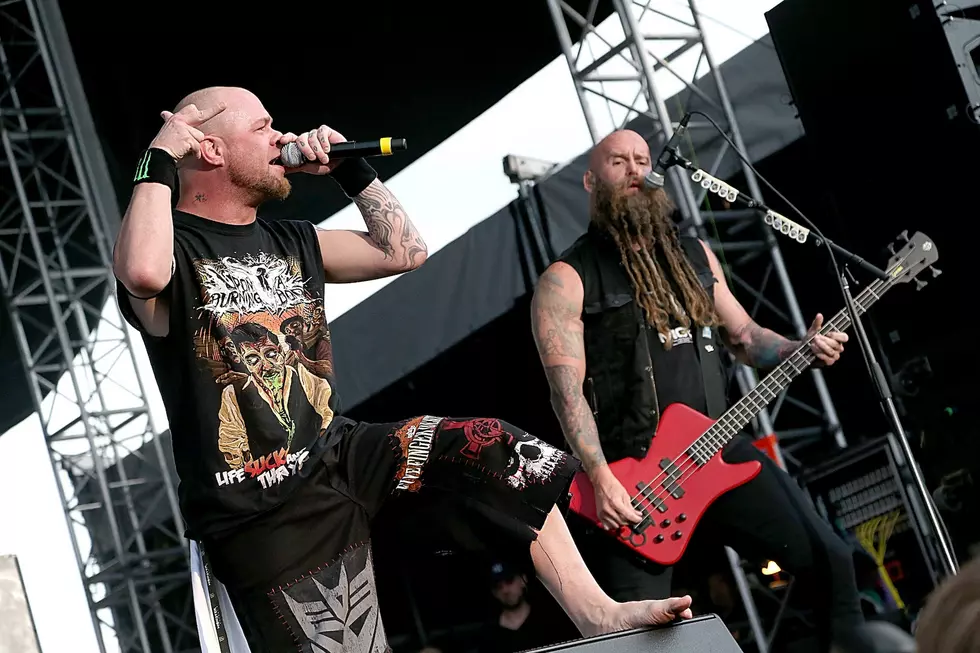 Five Finger Death Punch Already Have Three Songs Ready for New Album
Gary Miller, Getty Images
The musician said as much in an interview with "Andy's Hall Pass" on Des Moines, Iowa's Lazer 103.3 last month (July 23). Listen to the full interview down toward the bottom of this post.
"Ivan and I, both of us, have leaned on each other a lot during sobriety and have kind of been pillars for one another," Kael explained. "There were many times back in the day that we were ready to throw down, mouths running, alcohol in there, just angry. But now, I'd have to say he's probably my best friend out here on the road. We've definitely been good for each other here in sobriety. It's a whole different vibe than what it used to be."
That togetherness has lent itself to creativity in the studio, the bassist demonstrated. Kale went over the band's current recording and touring timeline while divulging that three "beasts" of new Five Finger Death Punch songs have already been completed. The band entered the studio earlier this year to start work on the new album.
"We just got out of a session in the studio in June," the musician said. "This tour that we're on now is kind of a break in between studio sessions, so we go back in August once we get back to Vegas again. We're writing some great stuff in there. We're in the best mindset that we've ever been in, collectively, as a band."
He continued, "Early on in this cycle right now with the recording process, we have got three monsters that we've written and recorded in the studio. Having these three huge beasts in the can already, excited about playing out here live and getting back into the studio, I can only imagine what the rest of the record is going to be like."
Five Finger Death Punch's Chris Kael Speaks With Lazer 103.3's 'Andy's Hall Pass'
See Five Finger Death Punch in the Top 30 Hard Rock Albums of 2018