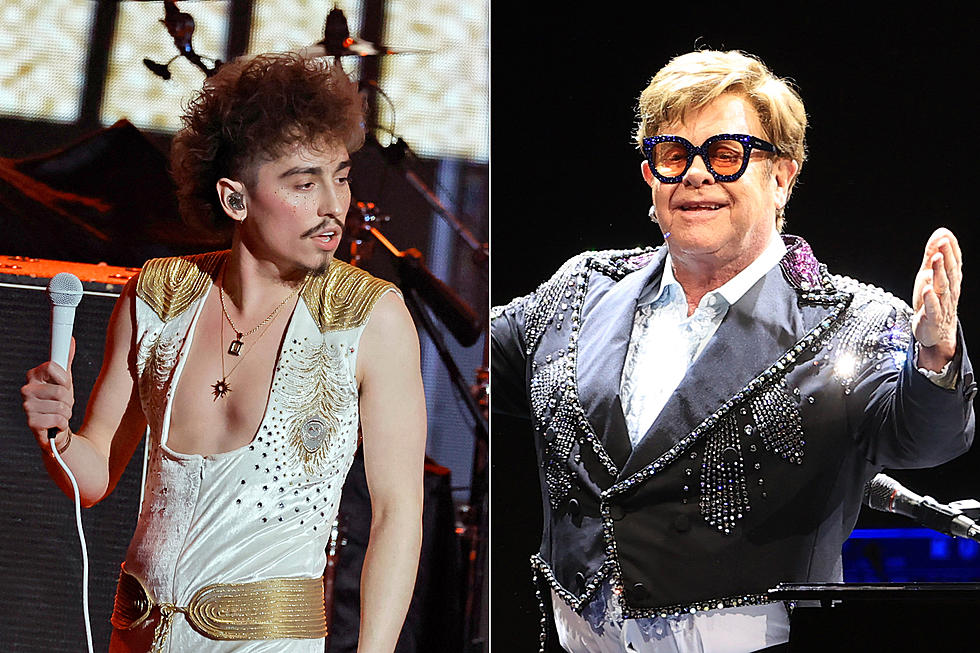 Greta Van Fleet Reveal the Elton John Advice That Stuck With Them
Kevin Winter / Cameron Smith, Getty Images
Your first taste of fame can be daunting, and when people such as rock icon Elton John are paying attention, you definitely listen to what he has to say. For Greta Van Fleet, being invited to play Elton John's Oscar Party in 2017 left a lasting impression, and it's something you can see onstage.
While speaking with Kevin Vargas for Loudwire Nights, the Greta Van Fleet rhythm section of Sam Kiszka and Danny Wagner recalled meeting the legend and sharing what piece of advice has stuck with them.
"He was pretty much like, 'Light it up. Do it. Own it. Don't be shy. Just go for it.' So after that we were like, 'OK, we'll go for it,'" said bassist Sam Kiszka. "So that's something you kind of have to remember is to give it your all and kind of create that person out there."
And speaking of creating "that person," that's carried over into the band's stage look somewhat as well. The bassist adds, "I think everyone's getting into a little bit more creating almost a different person up on the stage. Daniel and Josh have really been into rhinestones and sparkles and creating a whole different thing for yourself onstage and it kind of transports us there."
Wagner recalled, "It was probably the best out of all our years in our career that we could have met someone like that. It was at the very beginning. And he did give us that advice. He told us to flaunt what you've got while you've got it, essentially. This guy is a hero to us. He's someone that amongst all the artists that we grew up listening to, he was one we held on a high pedestal. So to hear something like that from a person like that, you don't take that lightly."
READ MORE: Greta Van Fleet Is the Breakout Artist of the Decade
2017 was a pretty great year for the band, as they took home the Best New Artist victory at the Loudwire Music Awards. That was the same year that "Highway Tune" introduced them to the world.
These days, the band is ramping up to a new album, having just announced that Starcatcher will arrive on July 21. Pre-orders for the record are being taken here and you can check out the new song "Meet the Master" at this location. To hear more from the interview with Greta Van Fleet, tune into Loudwire Nights tonight at 7PM ET.
Loudwire Nights airs nightly starting at 7PM ET. You can tune in anytime, from anywhere right here or by downloading the Loudwire app.
Best Rock Album Grammy - Who Won and Who Should've Won
What's your take on the past winners?