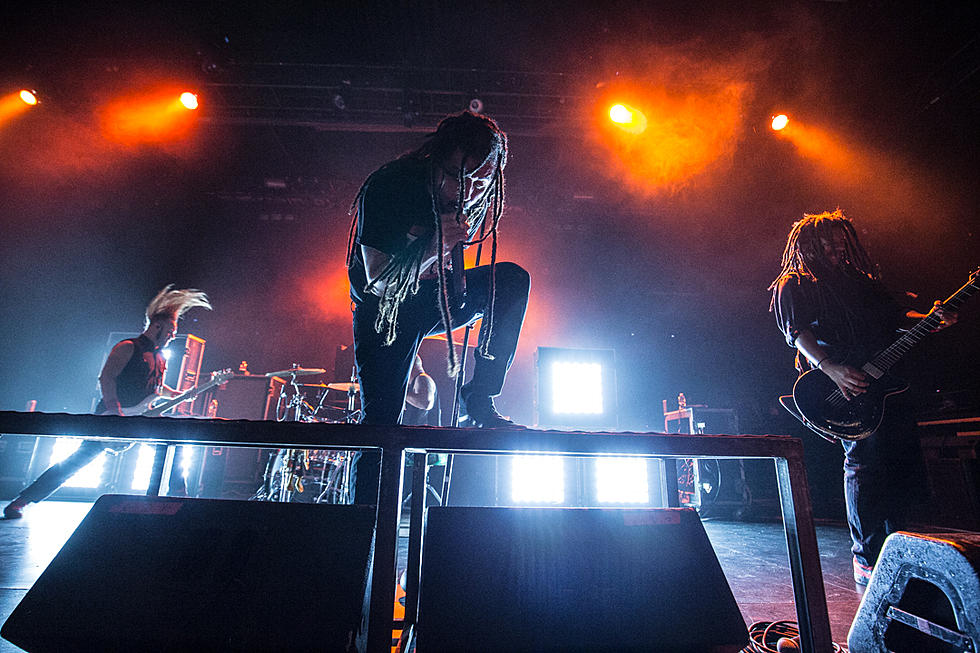 Nonpoint Debut Gloomy, Melodic New Song 'Fix This' – Premiere
Johnny Perilla, Loudwire
Last month, Nonpoint announced their 10th studio effort, X, and gave fans a double dose of new music with the "Dodge Your Destiny" and "Chaos and Earthquakes" singles. As we creep closer toward the Aug. 24 release date, the band has teamed up with Loudwire to bring you the next cut, "Fix This," which can be heard below.
This track expands the expectations for the sonic landscape of X, toying with shades of light and dark as "Fix This" moves from melancholic to combustible. There's a pervasive sense of gloom, but the clouds part after a bright solo as the song closes out on an uplifting note. While "Dodge Your Destiny" hit hard with concrete riffing and "Chaos and Earthquakes" highlighted Nonpoint's melodic and rap sensibilities, "Fix This" magnifies the band's more tender side.
"'Fix This' is a song that tries to define the Groundhog Day effect that happens when no matter how many conversations, sit-downs or changes you make in your life, you wake up everyday feeling like you're in the same toxic situation, with the same people, make the same mistakes over due to the lack of real care by those involved in the relationship," described Nonpoint.
X will be Nonpoint's second release under Spinefarm Records and you can pre-order your copy of the record here. If you're looking to catch them on the road, they'll be out with He Is Legend and Letters From the Fire for a month starting Aug. 21. Check out the list of stops below.
Nonpoint, He Is Legend + Letters From the Fire 2018 U.S. Tour Dates
Aug. 21 — Lexington, Ky. @ Manchester Music Hall
Aug. 23 — Ft. Myers, Fla. @ The Ranch
Aug. 24 — Orlando, Fla. @ House of Blues
Aug. 25 — Ft. Lauderdale, Fla. @ Revolution
Aug. 26 — Jacksonville, Fla. @ 1904 Music Hall
Aug. 28 — Athens, Ga. @ 40 Watt Club
Aug. 29 — Greenville, S.C. @ The Firmament
Aug. 31 — Jacksonville, N.C. @ Hooligans
Sept. 02 — Lynchburg, Va. @ Blue Ridge Rock Fest
Sept. 06 — Poughkeepsie, N.Y. @ The Chance
Sept. 07 — Hartford, Conn. @ The Webster
Sept. 08 — Boston, Mass. @ Brighton Music Hall
Sept. 11 — New York, N.Y. @ Gramercy Theater
Sept. 14 — Syracuse, N.Y. @ Lost Horizon
Sept. 15 — Lancaster, Penn. @ Chameleon Club
Sept. 16 — Easton, Penn. @ One Center Square
Sept. 19 — Nashville, Tenn. @ The Cowan
2018's Most Anticipated Hard Rock + Metal Albums