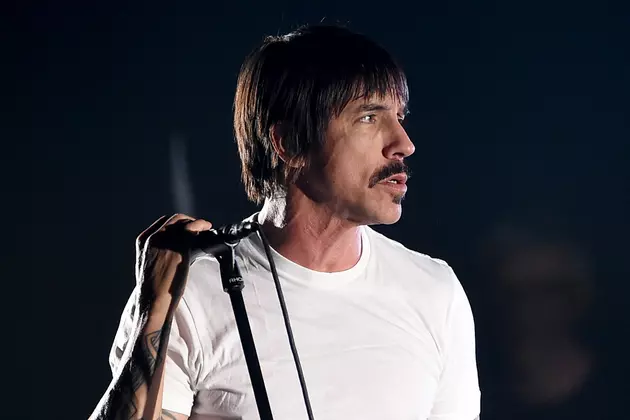 Red Hot Chili Peppers' Anthony Kiedis Not Fazed by Relapse Rumors After Hospitalization
Kevin Winter, Getty Images
Red Hot Chili Peppers frontman Anthony Kiedis is back onstage and rocking again after suffering a severe intestinal illness earlier in the month that sidelined him for a couple of shows. During a recent appearance on Australia's Sunday Night TV program (as transcribed by Alternative Nation), the vocalist was asked about the illness, including the rumors that perhaps he had lapsed in his sobriety.
Kiedis addressed the rumors, stating, "I felt more care than anything else. I got a lot of messages in the mail; it just seemed like people did care. My friends called, people I hadn't spoken to for years called, but what people assume or think about using, I could care less. It didn't faze me at all."
He went on to add, "I happen to love being sober, I also loved being wasted at times. Being sober for me is a pleasure, I get a lot of joy out of it; it works for me. I get to surf, I get to hang out with my son, I get to play music, I get to be okay."
Earlier this month, Kiedis spoke with ET Canada about the intestinal flu that led to the band's cancellations. "It was a painful and sad thing to have to cancel shows, we don't really do that. I'd rather play deathly ill than not at all but in this particular instance I was starting to go down to the ground. I got some help and now I've got to figure things out."
As stated, Red Hot Chili Peppers are back to touring. The group will start a run of European festival dates on June 4 at Rock Am Ring in Germany. See all of their upcoming shows here and look for The Getaway album arriving June 17.
In other Chili Peppers news, it appears as though the band will be part of Late Late Show host James Corden's "Carpool Karaoke" segment. An air date has not been announced for the band's appearance, but drummer Chad Smith offered a glimpse below via Instagram.
See Where Anthony Kiedis Ranks Among the Top 50 Hard Rock + Metal Frontmen of All Time
See Anthony Kiedis + More Rockers in 18 Rock + Metal Musician Movie Cameos