Learn The "History Of Vampires" In Less than 7 Minutes [VIDEO]
This is a great little cartoon/lesson for adults and kids. It explores the origins of vampires in other cultures and takes us up to what people "define" as a vampire these days.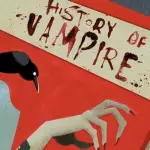 This is one of those shorts that makes me glad there's an internet.  It's part school film, part cartoon, full of fun and full of facts.  You can expand your brain while you think you're being just entertained. It's Halloween. There's no better time to learn about vampires!
Subscribe to KFMX FM on