Fox Sports 1 Delivers Excellent Profile Of Coach Kingsbury [VIDEO]
He may be the most talked about coach anywhere, and he's ours. Coach Kingsbury is profiled by Fox Sports 1. The video takes you behind the scenes from what the coach expects from his players to what he expects from himself.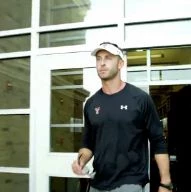 Coach seems confident that a Big 12 Championship is in Texas Tech's future and you can see in his eyes that he means it.  Also in this profile are some fun bits with the coach like his big "dance off" with one of the players (and how he's behind the curve a bit dancewise).  It's hard to believe, but the team hosts Central Arkansas this Saturday at the Jones.