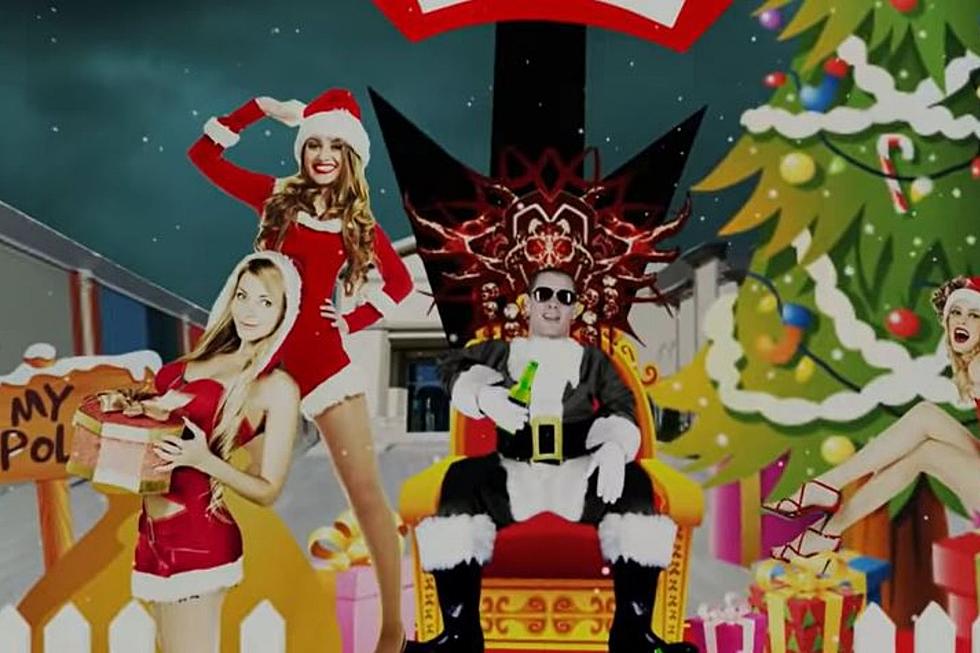 Celebrate Christmas With These 10 Christmas Rock Parodies
Corey Taylor YouTube
Celebrate Christmas by listening to these 10 Christmas rock parodies. They're sure to make you laugh and get into the Christmas spirit all at the same time.
Sometimes you need a nice change from all of the Christmas songs you've heard a million times. It's time to give "All I Want for Christmas Is You" by Mariah Carey and "Little Drummer Boy" by Bob Seger & The Silver Bullet Band a rest. Tons of people have made their own Christmas parodies and in the list below there's one from Corey Taylor and parodies of Rob Zombie and Ghost songs too.
We're taking a break from Bruce Springsteen and The Beatles and the usual Christmas songs. Here's a different way to celebrate Christmas. Listen below to this list of 10 Christmas rock parodies, some of which you might be hearing for the very first time. (It'd be hilarious to sneak these into the rotation on Christmas and see if anyone notices - we're 100 percent someone will.)
"Zombie Claus"

Psychostick

"Zombie Claus" by Psychostick is a parody of Rob Zombie's "Dragula." The parody sounds so much like the Rob Zombie song but instead of "dead I am the sky / watching angels cry / while they slowly turn / conquering the worm" it's "sack all full of toys / bringing Christmas joy / to every boy and girl / all over the world." The music video features elves with creepy masks on and a Santa Claus (that looks just like Rob Zombie) riding around to drop off toys.

"Frosty the Snowman"

Sock Puppet Parody

In this rock Christmas parody, it's all about a vengeful Frostbite the Snowman who "was forged from a hailstone, with an icicle knife in the blizzard snow and his face painted with coal." This parody is by the Sock Puppet Parody in their series, Immortal Christmas, and is sung to the tune of "Frosty the Snowman." In the music video, Frostbite destroys a kid's snowman and he and the band proclaim "Hail Santa!"

"The Night Santa Went Crazy"

Weird Al Yankovic

This next Christmas rock parody is from 'Weird Al' Yankovic and is about Santa losing his mind and destroying his workshop and grinding up "poor Rudolphy into reindeer sausage." The parody goes on "and he slashed up Dasher just like Freddy Krueger, and he picked up a flamethrower and he barbequed Blitzen, and he took a big bite and said, 'it tastes just like chicken!'"

"The Banishing"

Sock Puppet Parody featuring Philip Anselmo

Here's another parody from the Sock Puppet Parody and this song featured Pantera lead singer Phil Anselmo as Krampus. This video in the Immortal Christmas series is all about Santa coming to the rescue and he sings "here comes Santa Claus / here comes Santa Claus / coming to save the day / no force on earth can stop my aim / of causing Krampus pain / axe is slaying /  blood is raining / all is metal and bright / so hang your stockings and say your prayers 'cause Santa Claus sleighs tonight."

"Yule Shoot Your Eye Out"

Fall Out Boy

Fall Out Boy's Christmas parody "Yule Shoot Your Eye Out" is about "two hopes you cry yourself to sleep, staying up, waiting by the phone." Although most Christmas songs are happy, this one isn't by any means and the parody goes "don't come for Christmas / you're the last thing I want to see / underneath the tree." Their YouTube video has over 1.6 million views.

"Hail Santa"

Wagoner Bros.

This song is a parody of the Ghost song  "Year Zero" by the Wagoner Bros. The parody goes "one day a year he gives toys to kids turn by turn / climbs down the chimney now he lays the toys that you'll earn" instead of "a day of reckoning when Venice is to burn / countdown together now and say the words that you'll learn."

"I Won't Be Home For Christmas"

blink-182

This blink-182 song "I Won't Be Home For Christmas" is a parody of the song 'I'll Be Home For Christmas." The band sings about how "it's Christmas time, again, it's time to be nice to the people who I can't stand, all year, I'm growing tired of this Christmas cheer."

"Gothic Christmas"

Within Temptation

This rock Christmas parody is all about having a Gothic Christmas. Within Temptation sings about changing Rudolph's name to Ragnagord (which is from the game 'Gems of War") "cause Rudolph just sounds really lame" and "Santa's going to wear a black dress, just for me and you" and also "slay a dragon or two."

"Hail Santa"

Sock Puppet Parody

Here's another parody called "Hail Santa" but this one is by the Socket Puppet Parody as a part of their 'Immortal Christmas' series. The song goes "hail Dancer, hail Prancer, hail Donner and Blitzen / bow to lord Santa or die." (We'd love to see the look on your Grandma's face as you sneak this into rotation on Christmas morning.)

This next off-color parody is from Slipknot frontman, Corey Taylor and is all about if he "ain't drunk then it ain't Christmas, you know where to stick those jingle bells. If I ain't hammered it ain't Hanukkah, fa la la la la go fuck yourself!." The video features Corey Taylor dressed up as a Santa Claus with a sack full of beer and has over four million views on YouTube.