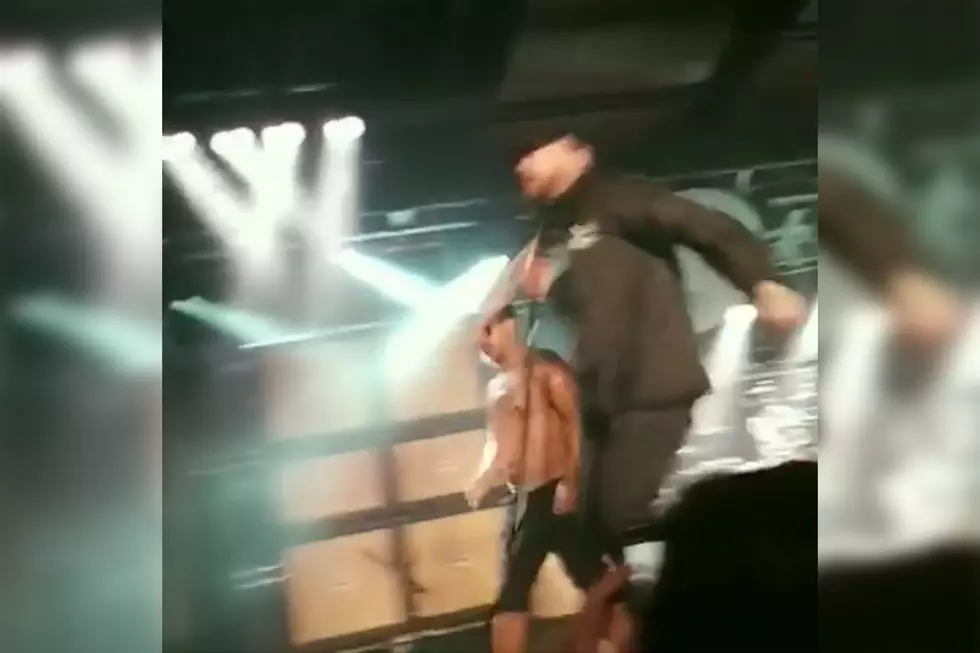 Attila Vocalist Punches Security Guard, Says Police Are 'After' Him
Instagram: kadenjamesltd
Attila vocalist Chris 'Fronz' Fronzak tweeted that police are "after" him following a skirmish that took place during their Las Vegas show last night (Aug. 22). Video has surfaced on Instagram of Fronz punching a security guard in the back of the head after he said, "We're never playing Vegas again. You lost this shit because of your bullshit security motherfuckers." He claimed that security guards were "choking" fans. As the video clip progresses, Fronz can be seen throwing the microphone stand and the microphone itself in the direction of where security guards were standing.
Fronz took to Twitter after the show, saying, "Just had to fight security again, God damn.... Show's over... Videos coming soon... Sorry Las Vegas." He continued in follow-up tweets, "I'm fucking SHAKING. FUCK disrespectful security. I will FIGHT YOU. GOOD VIBES ONLY. So sorry we had to cancel the show... You guys were the best crowd. Your security [were] total pieces of shit hurting our fans and disrespecting them. I don't stand for that shit... I will FIGHT for our fucking fans."
At 3:01 a.m. EST he tweeted, "Cops are after me now..." He added two follow-up tweets of closed-mouth emojis and another where he just said "bye." He has not tweeted since.
This is not the first time Fronz has claimed to have had a run-in with the law over disagreements with security. In 2015 he posted a since-deleted tweet that read, "Fuck. I fucked up. I think the police are looking for me." He later clarified his situation in a statement, "In the midst of yesterday's chaotic and amazing show, a few people unfortunately got injured," he stated. "At that point I was told that the police may be searching for me for 'inciting a riot' so naturally—I dipped the fuck out. I don't know about you but I don't fuck with police or jail."
60 Infamous Rock Star Mugshots
10 Insane Bandmate Fights