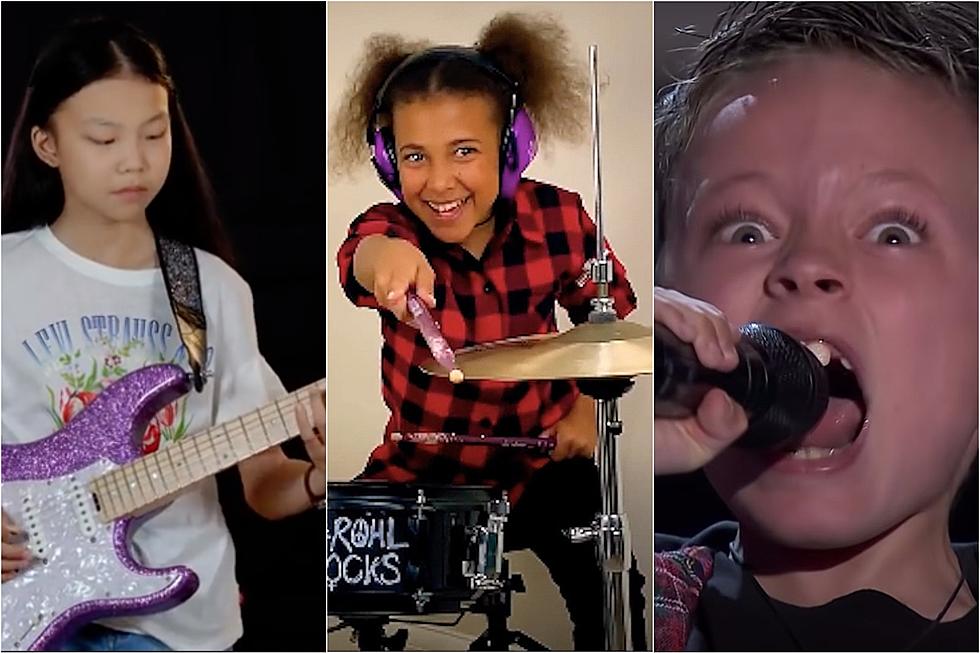 10 Child Prodigies in Rock + Metal With Jaw-Dropping Talent
YouTube
Most musicians require many years to reveal and refine their talent, as they start to take their craft seriously in adolescence before completely mastering it in adulthood.
However, history is full of artists who showed immense dedication and aptitude far earlier in life – such as Mozart, Chopin, Yo-Yo Ma and Kate Bush – garnering widespread attention for their performance and/or compositional skills by the time they're pre-teens.
Naturally, that applies to heavier music, too, with the following 10 picks demonstrating some truly top-tier child prodigies in rock and metal who are sure to kick even more ass as they grow up.
This 9-year-old bassist from Las Vegas only started playing about a year ago (after trying singing, guitar, ukulele, drums and piano); thus, she's made a huge name for herself in a shockingly short amount of time.

Beyond being profiled and interviewed by numerous YouTubers, publications and the like, she's been promoted – or even endorsed – by companies such as Markbass, Yousician, DR Strings and LK Straps. She's even featured on Victor Wooten's song "The Lesson" (from his recent audiobook, The Spirit of Music).
Need more proof of her awesome approach?

Check out her killer cover of Deep Purple's "Perfect Strangers" below.

Australian six-string savant Jayden Tatasciore started playing when he was 5 years old, and judging by his intimidating style, it's no shock that he cites Randy Rhoads, Slash, Metallica and Jimi Hendrix as influences.

Unsurprisingly, he's accomplished a lot so far, including appearing in an AC/DC tribute band, being named a 2018 NAMM show artist, joining School of Rock Sydney, and amassing over 250,000 followers on Facebook.

He even sat down for one of our March 2020 editions of Gear Factor, where he proved that he could hold his own against Judas Priest's Richie Faulkner.

Rock on, dude, rock on.

Moving onto notable vocalists, this Spanish 7 year old grew up adoring genre icons such as Iron Maiden, Steve Vai and AC/DC (plus ancient history and geography). Luckily, he's already got the pipes to do those guys justice.
Over the past month or so, he's gained superstar status due to his outstanding rendition of the latter's "Highway to Hell" on Spain's The Voice Kids.

His range and attitude were so exciting that all four judges embraced and congratulated him as he finished, leading to him choose Spanish singer/songwriter Melendi as his ongoing coach.

Honestly, he's better than most adult AC/DC tribute singers, right?

Where to begin with Lydian Nadhaswaram? Born in September 2005, the Indian multi-instrumentalist/singer/composer began playing drums when he was only 2 (and piano six years later). What's more, he's competent at over a dozen instruments in total.

In addition to winning CBS' The World's Best and subsequently showing up on The Ellen DeGeneres Show back in 2019, he studied at the KM Music Conservatory and will make his debut as a film composer with Barroz: Guardian of D'Gama's Treasure (an upcoming fantasy film directed by famed filmmaker/actor Mohanlal).

Let's be honest: Nadhaswaram makes most other musicians look bad by comparison.

British-Zulu 11-year-old multi-instrumentalist Nandi Bushell ostensibly came out of nowhere with her nods to Royal Blood's "Out of the Black" and RATM's "Guerrilla Radio" in May 2020.

Influenced by Ringo Star, she's best known for her friendly rivalry with Dave Grohl; outside of that, she's covered – and impressed – many other members of rock royalty, including Muse frontman Matt Bellamy and Lenny Kravitz (who invited Bushell to perform with him at the O2 Arena in June 2019).

She hopes to start a band called the Titans (after Teen Titans); as the first kid-musician-in-residence at Cartoon Network, she's well on her way.

Okay, so this is kind of cheating since it's about an organization and not an individual; however, the OMF has worked with too many superb young artists to single anyone out and not discuss it as a collective example.

Founded by Aaron O'Keefe over a decade ago, the nonprofit association offers free music lessons, music camps, recording sessions, music videos and more to help children "reach their peak level of coolness."

While not all of their students turn to rock and metal, plenty do, resulting in badass takes on Sepultura, Ozzy Osbourne, Pantera, Dream Theater, Slipknot and so much more!

It wouldn't be fair to highlight the OMF without giving equal credit to one of its biggest counterparts, the expansive and revered School of Rock.

Granted, they seem to be a bit more selective and prestigious when it comes to applicants and admiration, yet they offer an almost identical style of instruction and performance regiment to help kids of all ages – from virtually anywhere in the world – become the best players possible.

We're particularly taken by their students' versions of Sound Garden's "Black Hole Sun," Queen's "Bohemian Rhapsody," Megadeth's "Symphony of Destruction," Tool's "Schism" and Kansas's "Carry On Wayward Son."

Another Australian guitar master, Taj Farrant leans more toward blues and country rock than any harsher subgenre. Of course, that doesn't mean that he's any less of a magnificent musician.

By the time he was 9-years-old, he was blowing away viewers on Australia's Got Talent and The Ellen DeGeneres Show; beyond that, he's played with Carlos Santana and Rob Thomas; signed with Dorsey Productions; established a staggeringly popular YouTube channel; and – as of 2019 – become the youngest person ever to be endorsed by Elixir Strings and Gibson guitars.

He even took his own band on the road earlier this year!

Modern child prodigies sure love covering AC/DC, as German quartet The Rockets achieved extensive attention by replicating "T.N.T" on The Voice Kids back in March 2021.

Prior to that, they attended classes at the School of Pop, and their music teacher became their mentor (which explains why each member also looks after an aspect of their marketing and/or organization). On that note, they've wisely – if endearingly prematurely – created a line of merchandise, too, that includes autograph cards, bracelets, stickers and even their own drink.

It's hard to ridicule their ambition when they've clearly got the chops to back it up.

Liu Pinxi – a.k.a. YOYO – is a 13-year-old Chinese guitarist who began taking acoustic lessons when she was just 6 (and then transitioned to electric a year later). Outside of that, not much is known about her background or interests (although she reportedly made her first public appearance in October 2015 at the China Musical Instruments Exhibition).

That's fine, as all that really matters are her phenomenal skills, which she's displayed countless times via her jaw-dropping renditions of "If I Could Fly" by Joe Satriani, "Far Beyond the Sun" by Yngwie Malmsteen and "Angel of Darkness" by Andy James (among others).