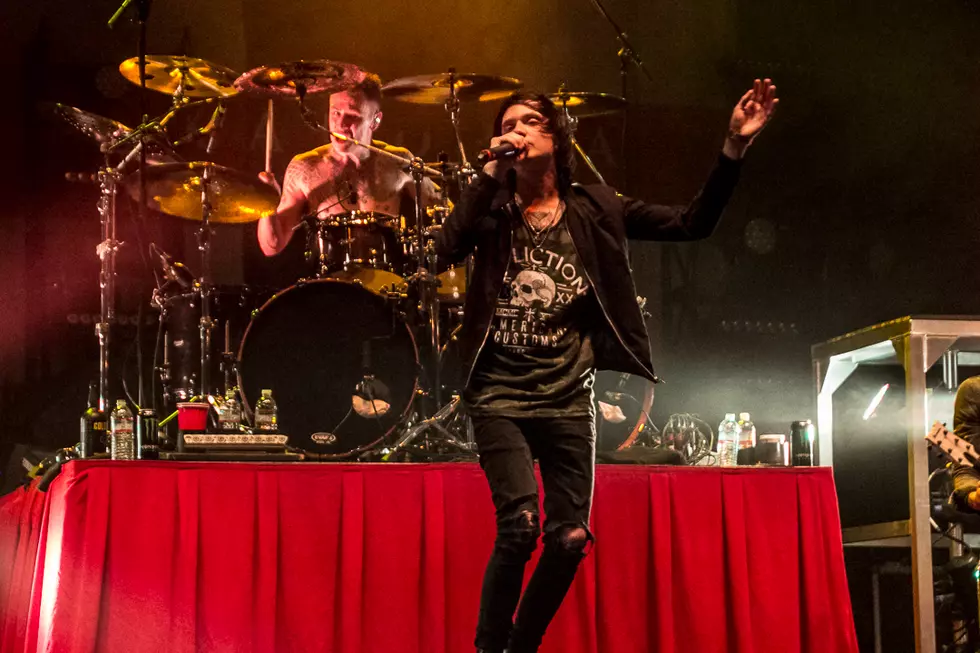 Denis Stoff Opens Up on Split With Asking Alexandria
Kathy Flynn, WickedGoddessPhotography.com
On Friday night (Oct. 21) Asking Alexandria guitarist Ben Bruce hopped on Facebook live to detail the current status of the band. He explained that singer Denis Stoff had stopped responding to any form of contact the band attempted, adding they've rekindled their relationship with original singer Danny Worsnop. With the original lineup now back intact, Stoff has offered a terse explanation as to why he chose to leave Asking Alexandria.
The band have been one of the leading acts on the Sumerian Records roster since releasing their debut record with the label in 2009. Founder and CEO Ash Avildsen sent out a tweet over the weekend stating, "As requested, I'll release a video further clarifying what happened with [Asking Alexandria]. If Denis denies the truth, emails and texts prove everything."
Stoff acted hastily, responding, "I left [Asking Alexandria] because I can't be in a touring band at this point in my life. There's no drama & I don't want to be a part of it." The full interaction can be seen directly below.
With the band headlining Sumerian's "10 Years in the Black" tour launching tomorrow (Oct. 25), the members of Asking Alexandria knew they had to secure a frontman to replace the estranged Stoff. During the Facebook live chat, Ben Bruce spoke about the decision to bring Worsnop back, stating, "Obviously over the last few months we've rekindled our relationship with Danny. What happened in the past sucked and it hurt us and obviously I said things and Danny has said things — that happens. It was in the past and it was s–t, but at the end of the day we've been best friends for a decade and that's why this is the move that's right for us — right for us as a band, right for us as people and friends and right for Asking Alexandria."
Tensions had previously developed between Worsnop and the band with the singer expressing a lack of interest in extreme metal. He walked back these comments, detailing in an Instagram post that he took the last year to "find himself," adding, "I'm now in a place mentally where this is something I can embrace again, with the men I started this crazy journey with. It's a beautiful nostalgia that feels like nothing ever changed. Whatever happened with Asking Alexandria and Denis Shaforostov is between them, and for them to tell. All I can speak to is my excitement to be working with my old and dear friends, playing music we made for a decade that we are here to celebrate."
Ben Bruce: Dramatic Fan Fiction Reading
Asking Alexandria Play 'Wikipedia: Fact or Fiction?'