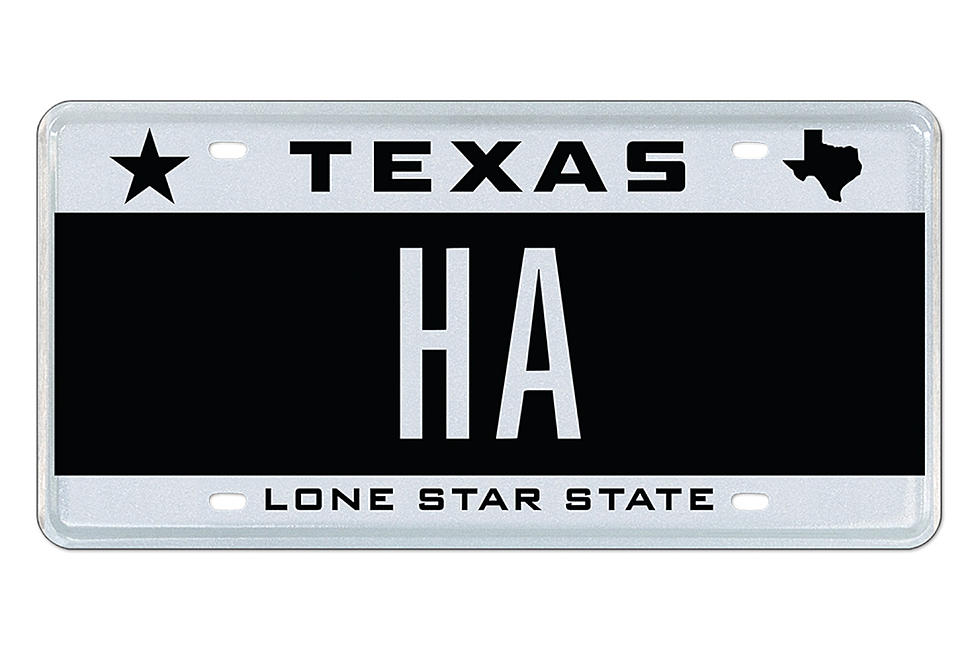 Does Your Car Have an Illegal Tag? Texas DMV Declares War on Fake Plates
Proxbid, MyPlates.com
If you recently purchased a vehicle in Texas, you might want to double-check your license plate. It may not be legit!
Criminals Selling Fake Texas Tags
Dallas' NBC5 is reporting paper tag fraud across the nation, and Texas DMV Executive Director Whitney Brewster is calling the situation 'an emergency'.
Here's what's happening: while legitimate car dealerships are putting temporary tags on new purchases, criminals are buying and selling fake tags online. Let's dive into the reasons behind the crime.
Why Fake Tags, Though?
Fake tags can allow criminals to avoid tolls and fees, or cover up other crimes. These forgeries can cost both taxpayers and toll roads millions of dollars in lost revenue, along with other potential problems as well.
Imagine that you are the victim in a hit and run accident. The vehicle disappears, but you saw the tag. Guess what? It's a fake one. That makes it much harder to find the person responsible, and meanwhile the suspect remains on the loose to potentially commit more crime.
This is exactly what happened to Yaya Meza, who was eight months pregnant, and lost her baby after an emergency c-section due to a crash in the summer of 2018.
There's No Legal Way to Buy Paper Tags
You can't legally buy paper tags in Texas; only dealers can put them on cars that they actually sold.
Of course, that doesn't stop criminals from making money with fake ones. Earlier this year, three people were indicted for conspiracy and wire fraud in Houston after using fake car dealerships to issue and sell hundreds of thousands of Texas temporary buyer tags - without selling cars to go with them.
The head of the Texas Department of Motor Vehicles says millions of dollars are at stake, but states that her office isn't to blame for the mass fraud of sham paper license plates. In an effort to crack down on the crime, Texas lawmakers passed HB 3927 earlier this year.
So What Does the New Law Actually Do To Help Eliminate Fraud?
Well, the DMV now has new authority to deny a dealer or converter access to the temporary tag database and to establish the maximum number of temporary tags a dealer or converter may obtain in a calendar year.
According to Travis County Constables Precinct 3, the top paper tag fraud experts in Texas, the crime of creating and selling fake plates is also creating dangerous road conditions by allowing vehicles on the highway that wouldn't pass a state inspection.
While the DMV's board is working on plans to limit the number of tags dealers can legitimately issue, Houston's Fox 26 is reporting that Sgt. Escribano with Travis County Constables Precinct 3, believes there is a bigger issue at hand.
What Else Can Be Done To Stop This?
He says the application process for Texas DMV dealers needs to be modified, and someone from outside the organization should take a closer look at upper management to make sure those jobs are being done properly as well.
In the meantime, keep your eyes open for sketchy paper license tags! It could be a new car, or the clue someone needs to solve a crime. You could even be eligible for a cash reward.
Make Sure You Pay Extra Attention While on These Roads
Texas is a large state with multiple highways to help keep us connected. Unfortunately these same roads can cause trouble and grief if you're not careful. Take a look at the list of Texas counties and the most deadly road located there based on fatal accidents.
Texas Crime Statistics By City
Check to see how crime compares in your city versus elsewhere.
Texas 6 Most Wanted Fugitives (October 2021)
Take precaution and familiarize yourself with the following faces. These criminals are currently listed in the Texas 10 Most Wanted.