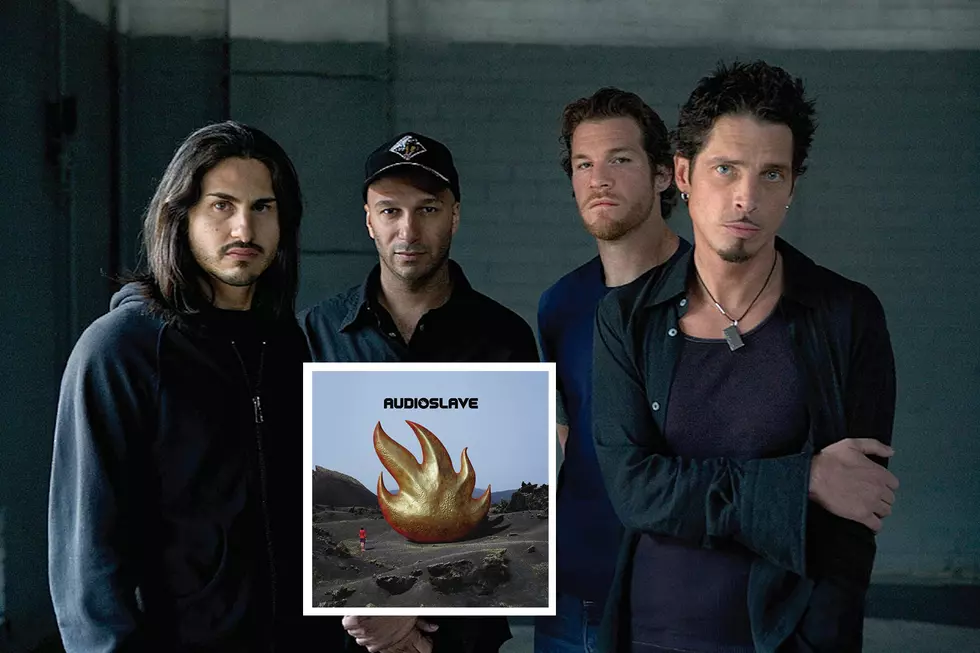 8 Facts About Audioslave's Self-Titled Debut Only Superfans Would Know
Interscope / Epic
Nowadays, collaborations between artists happen constantly and new supergroups seem to pop up every few months. But, years ago when members of huge bands would form a new entity, it was a much bigger deal — such was the case with Audioslave, which formed in 2001 out of the dissolution of Rage Against the Machine and Soundgarden.
What do you get when you take the thunderous energy of RATM's Tom Morello, Brad Wilk and Tim Commerford and top it with Chris Cornell's remarkable vocal range? Audioslave's self-titled debut, which came out on Nov. 19, 2002, features powerhouse anthems such as "Cochise" and "Show Me How to Live," as well as more melodic numbers "Like a Stone," "I Am the Highway" and "Shadow on the Sun."
Sadly, Audioslave's reign didn't last very long, but their debut album, as well as their two subsequent releases, Out of Exile (2005) and Revelations (2006), helped solidify them as one of the strongest and most admirable supergroups of the 21st century.
Check out some facts you probably didn't know about Audioslave's first album below.
1

Chris Cornell had been writing a second solo album at the time.

After Zack de la Rocha left Rage Against the Machine, the remaining members wanted to continue on under a new name, and it was producer Rick Rubin who suggested they recruit Cornell. He played them the Soundgarden track "Slaves and Bulldozers" from their 1991 album Badmotorfinger to show them his vocal range, and they set out to meet him.

Cornell had been working on a follow-up to his first solo album Euphoria Mourning at the time, so he put the project on hold and agreed to work with Morello, Wilk and Commerford.

"At first I didn't like the idea," Cornell told Spin in 2003. "I hated the thought of joining three people who already existed in a relationship that was probably dysfunctional, because that's the way all rock bands exist. But after jamming with them in a room, I was so impressed with how good they were."

Kevin Winter, Getty Images

Kevin Winter, Getty Images

2

They wrote 21 songs in 19 days.

According to the aforementioned Spin story, Morello told the magazine that when Audioslave agreed to work together, they wrote a total of 21 songs in 19 days, which was much more productive than Rage had been.

"We wrote songs so fast that the songs were basically telling us what we were gonna sound like," Cornell said during an interview in 2003.

"We all came from bands that eventually were kind of dysfunctional, we all came from bands that, in some way, really influenced music on a large scale. We all kind of knew what we were getting into. They knew what my voice sounded like and what my lyrics were like — I knew what they sounded like as a band... So we all kind of knew that great things were possible."

3

Chris Cornell temporarily quit before the album came out.

In March of 2002, Cornell quit Audioslave just after they announced they'd be playing at Ozzfest that summer. According to San Diego City Beat, issues arose between Cornell's management company and the management of the other three members. They chose a new management company to oversee them as a quartet, and the vocalist rejoined after a couple of weeks.

4

Many of the songs were leaked before the album came out.

It was a scary time for artists in the early 2000s when music was beginning to go digital. Audioslave were victims of a leak on peer-to-peer file sharing networks, where 13 of their demos were shared under the title Civilian. 

An article published by MTV in May of 2002 wrote that the band was still "unnamed" at the time, and that the songs ended up on various networks within minutes, including one called AudioGalaxy.

"Even an amateur ear could identify the former Soundgarden frontman's style, however, and the sonic hybrid evident in the material shouldn't surprise anyone familiar with either of the involved parties," the story read.

Morello later told Metal Sludge that it was the fault of an intern who worked at the recording studio they made the album at.

"I'm mad. So mad," the guitarist said. "Some jackass intern at Bad Animal Studios in Seattle stole some demos and put them on the internet without the band's permission. I'm so mad. They sound nothing like the record, and I can't wait for people to hear the real thing."

6

The cover art was designed by the same artist that worked on Pink Floyd's The Wall.

The cover art for the album was designed by graphic designer and music video director Storm Thorgerson, who designed covers for tons of musicians throughout his career including Led Zeppelin and Black Sabbath, but most notably, Pink Floyd's The Dark Side of the Moon, Wish You Were Here and Animals. 

As per the San Fransisco Art Exchange, Thorgerson's design team created a massive flame sculpture, which he said represented "an eternal flame symbolizing how two deceased bands, Soundgarden and Rage Against the Machine, lived on in the reincarnation called Audioslave. This shape was turned into a large sculpture made of beaten bronze, like a sounding brass. The little figure is paying homage to the sculpture and acting as both a size and a reference point."

The sculpture was photographed at a coal mine in the U.K., though they combined it with a photo of Lanzarote in the Canary Islands for the final result. Thorgerson is the man you see on the album cover standing next to the giant flame.

"The brooding nature [of Chris Cornell's voice] was so overwhelming and spoke so clearly of volcanoes — so the overriding question for us was, 'Where is the nearest volcano? And what should we add to the image to make it more interesting?' Lanzarote in the Canary Islands was selected, as being entirely volcanic," Thorgerson said of his decision to pick that location.

5

Cornell was going through several personal crises at the time.

Prior to the release of the album, Cornell had a lot of issues going on in his personal life. Rumors had spread that he checked into rehab in September of '02, which he confirmed to Metal Hammer during an interview — the cover of the magazine issue featured the band on the front and read, "From Rage to rehab with Chris Cornell and co."

As reported by Contact Music, the band actually filmed the music video for "Cochise" while the singer was still in rehab.

"It was the quintessential rock 'n' roll experience," Cornell recalled. "They came and put me in a van with a guy who was there to make sure I wasn't given anything. I got my hair and make-up done in there, and then I was parachuted onto the middle of this $850,000 video set. The shoot's over, they drive back to rehab."

It was also around this time that Cornell separated from his first wife, Susan Silver, who'd managed Soundgarden all throughout their career until they disbanded. He and Silver had a baby girl together at the time, Lily, who was born in 2000.

"During the period when we made the first Audioslave record, I was going through a horrible personal crisis," he explained to San Diego City Beat. "Before the record was even released, I went through rehab and my relationship ended. Then I stopped drinking and started re-focusing and wonderful things started happening."

Kevin.Mazur, WireImage/Getty Images

Kevin.Mazur, WireImage/Getty Images

9

They performed on top of a roof after it was released.

Just after Audioslave was released, the band performed "Like a Stone" and "Cochise" on the Late Show With David Letterman... atop the roof of the Ed Sullivan Theater.

8

There was a bonus track called "Give."

Fans with CD copies of the album, for a limited time, were able to insert the CD into their computer and gain access to exclusive materials through the ConnecteD website, including a bonus track, which was called "Give."