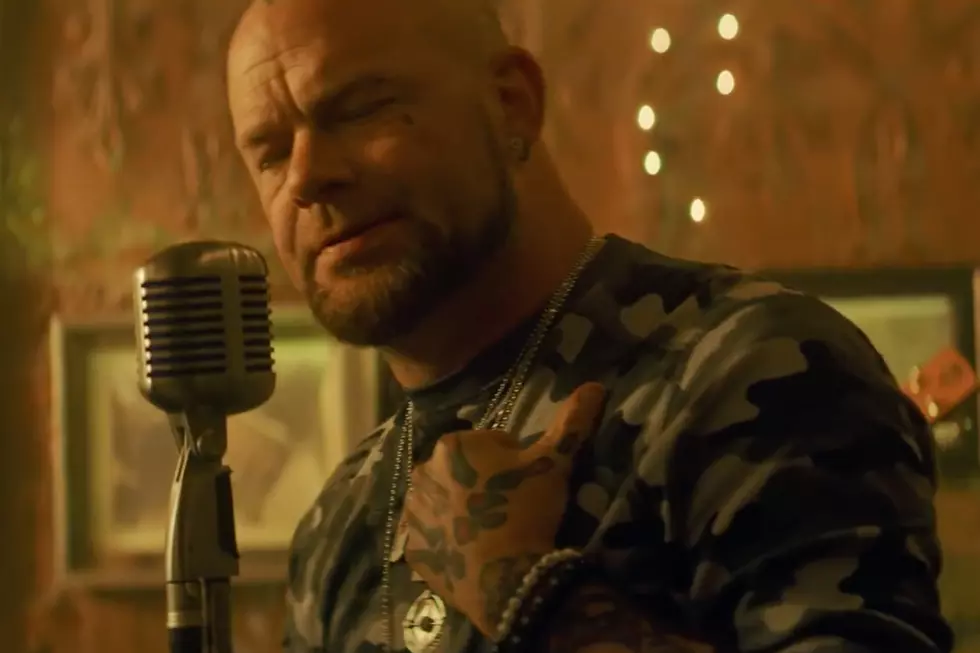 Five Finger Death Punch Unleash Western-Themed Video For 'Blue On Black'
YouTube: Five Finger Death Punch
Five Finger Death Punch are known for their elaborate and creative music videos, including the colorful clip for "Sham Pain" and the gut-wrenching, emotional cover of The Offspring's "Gone Away." The Las Vegas rockers have unleashed a video for "Blue on Black," a blues song original performed by Kenny Wayne Shepherd.
The video features FFDP frontman Ivan Moody pulling up to a bar in a desert ghost town. He walks into the bar named "Carnival of Souls" to see a packed bar full of people that have been seemingly lost in time, with sailors, cowboys and costumed patrons all settling in for a performance. Initially met with quizzical looks, Moody soon learns why as he takes a seat at the bar and turns to see himself fronting Five Finger Death Punch performing the song on acoustic instruments. Watch the clip in the player below.
"Blue on Black" was originally featured on Kenny Wayne Shepherd's 1997 album Trouble is…. The song is one of Shepherd's most popular tracks and is his most-listened to song on Spotify with over 13 million streams.
Earlier this year, Bathory told us he wasn't initially sold on the cover, but was pleasantly surprised by how it turned out and fit with the rest of the band's album. "'Blue on Black,' it's a different song. Kenny Wayne Shepherd, I'd never seen his band. It's not my vibe," said the guitarist. "But when we did that song, once it was done I was surprised. It fits in the record and I don't see it sticking out too far. It still sounds like Five Finger Death Punch, but it is something different. At the end, I was like, "Wow, I didn't expect this to work but it did."
Five Finger Death Punch's version of the bluesy rocker is featured on the band's seventh album And Justice For None, which was released back in May.
2019's Most Anticipated Hard Rock + Metal Albums