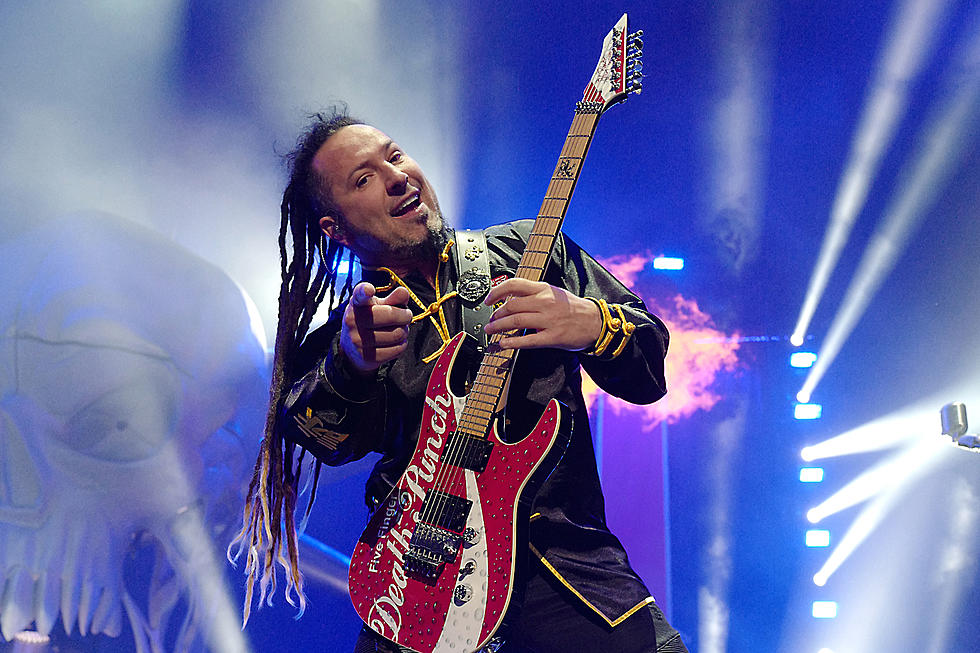 Five Finger Death Punch: New Album Returns to Our 'Heavier Side'
Adam Bettcher, Getty Images
The rockers are well into the recording of their upcoming effort, and last month the band began sharing a series of studio vlogs documenting their progress. The first two showed 5FDP guitarist Zoltan Bathory dishing out some "brütal riffs" alongside recently sober vocalist Ivan Moody. In more recent clips, Bathory reveals he's "very happy" with what he perceives as a "shifting back" to the band's "heavier side" on their budding tunes—an atmosphere he suggests is similar their first two albums. Watch the new videos down toward the bottom of this post.
"Holy shit, it's nasty," Bathory says after the band's fifth day in the studio, in the clip uploaded May 29. "Some nasty riffs, the vocals are great, kind of like War Is the Answer, Way of the Fist a little bit. For some reason, the music is kind of shifting back to that heavier side. I'm really curious to see how this is going to turn out, wow."
The imminent Five Finger Death Punch release, the band's eighth, is set to follow last year's And Justice for None. It will also be their first full-length following the departure of longtime drummer Jeremy Spencer.
See Five Finger Death Punch in the Top 30 Hard Rock Albums of 2018