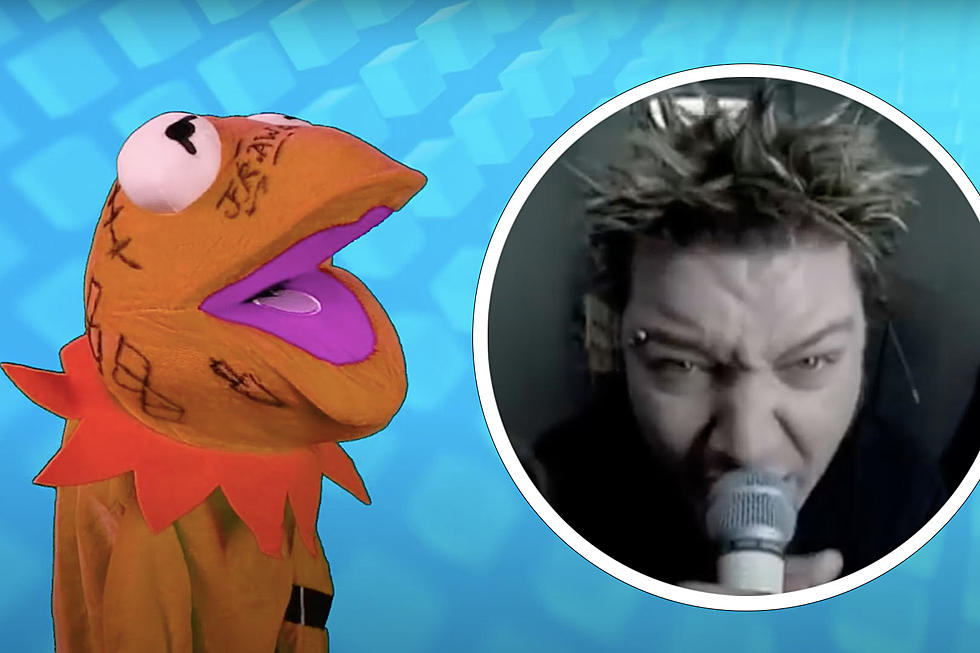 Psychostick's Drowning Pool Parody 'Numbers' Goes Viral on TikTok
YouTube - Psychostick / YouTube - Drowning Pool
Drowning Pool's "Bodies" has to be one of the most recognizable heavy songs of all time, so it makes sense that there would be parodies of it — even for kids. Comedy metal band Psychostick made their own parody of the track called "Numbers" for youngsters, and it's gone viral on TikTok.
Psychostick released their version of "Bodies" in November of 2020, so it's been out for quite a while. But thanks to someone labeling it the "best kids counting song" in a TikTok — which was uploaded in July and now has over 1 million views — the full video has now racked up over 5 million views on YouTube.
The band's video features evil versions of your favorite Muppets — Kermit the Frog, who's seemingly covered in marks to resemble tattoos and is nicknamed "Killa Da Frawg," as well as Hell-Moe and Cookie Mosher. The twisted nu-metal puppet trio perform the song with colorful numbers appearing on the screen so your little metalhead can follow along.
"One, two, five four / Me count so poor," are the opening lines of the verse, sang perfectly to match the melody in "Bodies." We won't ruin the rest of the song for you, because it's definitely worth checking out for yourself below.
"This parody song is actually called 'Numbers' like Drowning Pool's 'Bodies' but no one calls it that. They just call it 'I can only count to four' by Psychostick," the band wrote in the description for the video on YouTube. "I'm sure people called 'Bodies' 'Let the bodies hit the floor' all the time."
Check out the full video and the TikTok version below.
"Bodies" really has been everywhere as of late. Earlier this year, Shaquille O'Neal released his own parody version of the song titled "Thotties Hit the Floor." Last year, a cockatoo went viral on TikTok for repetitively singing "Bodies" over and over.
READ MORE: Removal of Suggestive Song From Kids Version of Queen's 'Greatest Hits' Causes Outcry
The members of the band apparently never even expected the song to become as massive as it did. In a 2021 interview, guitarist C.J. Pierce said, "I have to say that was very unexpected. I appreciate it and I love it. Every time it comes up, I crack up. I've seen some really funny, crazy renditions of that song."
"Just a song that came along naturally, we were rocking out in the room, drinking a couple of beers and writing what you feel," he continued. "And the song 'Bodies' just took on a life of its own, man, and it keeps coming up and getting used for different stuff. It's the 'Jelly Of The Month Club,' it's the gift that keeps giving,"
Psychostick, 'Numbers' (Drowning Pool 'Bodies' Parody)
10 Ridiculous Metal Covers of Classic Songs
Here are 10 ridiculous metal cover versions of classic songs. In the list below, you can read about the original tune first, with each song entry followed by the info about its corresponding ridiculous metal cover. Are you ready? (Click on the listen links to hear any version.)