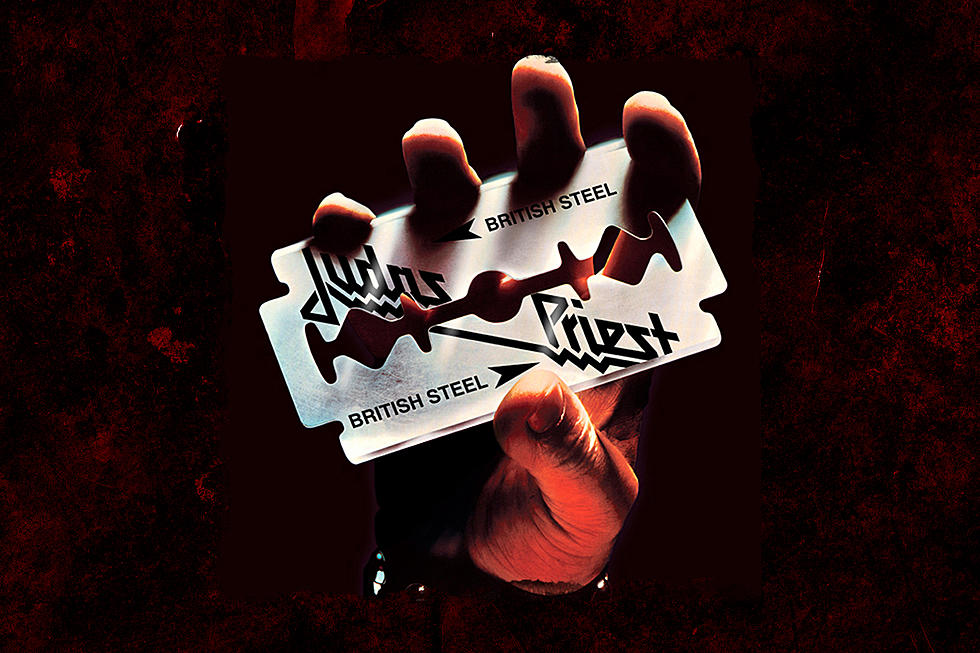 42 Years Ago: Judas Priest Pound the World With 'British Steel'
Columbia
Judas Priest released British Steel on April 14, 1980, and there are many fans and historians who would swear by their black leather jackets that the legendary band was at the top of its game with that propulsive, iconic album. Sad Wings of Destiny, Screaming for Vengeance, Defenders of the Faith and Painkiller all hold a prominent position in the pantheon of excellent and important metal releases, but when it comes to influence, consistency and accessibility, British Steel is, perhaps, a notch above them all.
Arriving during the very outset of the New Wave of British Heavy Metal movement, 1980's British Steel forged a template and set the bar for countless bands, including Iron Maiden, Saxon, Diamond Head and Grim Reaper.
"When we were doing British Steel, there was definitely that feeling within the band and label that something really exciting was just around the corner," says vocalist Rob Halford. "As it turned out, British Steel was really the record that propelled the band, particularly in America through songs like 'Breaking the Law' and 'Living After Midnight.' And 'Living After Midnight' was the song that gave us that all-important radio accessibility that we'd been striving for."
Judas Priest, "Breaking the Law" Music Video
British Steel isn't Judas Priest's most musically complex album. Most of the songs are simple and straightforward, but from the anti-authoritarian charge of "Breaking the Law" (the opening track on the U.S. release) to the flailing guitar leads and rhythmic, pre-thrash barrage of "Rapid Fire" (track one in the U.K.) it's a complete, satisfying and cohesive release. There's a bit of musical experimentation ("Metal Gods," "The Rage"), some chant-along anthems ("United," "You Don't Have To Be Old To Be Wise") and plenty of moments custom-made for fist-in-the-air headbanging.
From the album's immaculate construction to its natural flow, one might guess Judas Priest spent months perfecting the songs before tracking them over an equal amount of time. In actuality, once they entered the Tittenhurst Park Recording Studios, a live-in estate in the English country of Berkshire, England, that was formerly owned by John Lennon, the band had 28 days to record with producer Tom Allom.
"We only had 40 percent of it written when we went in," says guitarist Glenn Tipton. "In this day and age, it would be very difficult for us to go into the studio and record and then write, as well. But we had a surplus amount of energy and enthusiasm at that time, and it really did pay off. I suppose there's a certain argument saying if you give yourself a deadline you've got to come up with the goods. And we actually did."
Judas Priest, Live at Monsters of Rock Festival (1980)
While Judas Priest were recording British Steel, their management was already planning a tour. There was no margin for error when it came to scheduling, but being under the gun provided incentive. Priest had no time to second-guess themselves, so they went with first ideas and first takes, which gave the album a sense of immediacy.
"I think the way we made it probably has a lot to do with why the album still sounds pretty fresh today," says guitarist KK Downing. "It sort of sounds like a live album, and I guess that's what it was. All the takes were done at the same time unlike nowadays where everybody puts the parts down separately. We played the parts together as a band until we got them right, and that's what makes it sound like it's got that really good live energy. It's not overproduced and still sounds raw and cool."
For Halford, part of the strength of British Steel comes from the collaborative process in which the band was forced to create. "We went into the sessions with a handful of ideas, but the bulk of material came from Glenn and KK and myself sitting around for the first time as a writing team. Previously, one of us would bring a completed song to the table and we'd work on that. The British Steel sessions brought us together as a trio of writers for the first time and we focused as a band in a way that we hadn't done before."
While they weren't exactly lacking ideas, Judas Priest pulled inspiration from anywhere they could. One night after returning from the pub, Tipton picked up his guitar and started jamming on a catchy riff. Encouraged, he played it over and over while Halford was trying to sleep.
"It was 4AM, and Glenn had set his stack set up downstairs from the room I was in," Halford recalls. "I was annoyed, so I went down and said, 'Hey, Glenn, can you turn that down a bit because I can't sleep. It's four o clock in the morning and you're living after midnight.' And Glenn's immediate reaction was, 'Oh, that's a great song title for this tune. Check out these chord progressions.'"
Judas Priest, "Living After Midnight" Music Video
As great as the chemistry was while Judas Priest worked on British Steel, they barely had time to finish the songs let alone sit back and analyze what they were creating. As soon as they finished tracking, they were onto their next career step, rehearsing for a tour that was scheduled to launch March 7, 1980.
It would be more than a month before the album came out and even longer before "Living After Midnight" lit the airwaves on fire. Priest didn't play any songs from British Steel on the UK leg of the tour, which featured opener Iron Maiden. When they arrived in the States that summer of 1980, they had added "Living After Midnight," "Steeler," "You Don't Have to be Old to be Wise" and "Grinder" to their set.
"I don't think we found out until quite a while after British Steel was released that it was going to be so significant," Downing says. "The combination that made it so important to Priest was the songs, the riffs, the titles, the art work and the fact that the actual look of the band had become more uniform and consolidated with the leather and studs. It seemed to be the album that pulled everything together for Priest. At long last we knew who we were, what we were and what we intended to do."
Loudwire contributor Jon Wiederhorn is the author of Raising Hell: Backstage Tales From the Lives of Metal Legends, co-author of Louder Than Hell: The Definitive Oral History of Metal, as well as the co-author of Scott Ian's autobiography, I'm the Man: The Story of That Guy From Anthrax, and Al Jourgensen's autobiography, Ministry: The Lost Gospels According to Al Jourgensen and the Agnostic Front book My Riot! Grit, Guts and Glory.
Judas Priest Albums Ranked