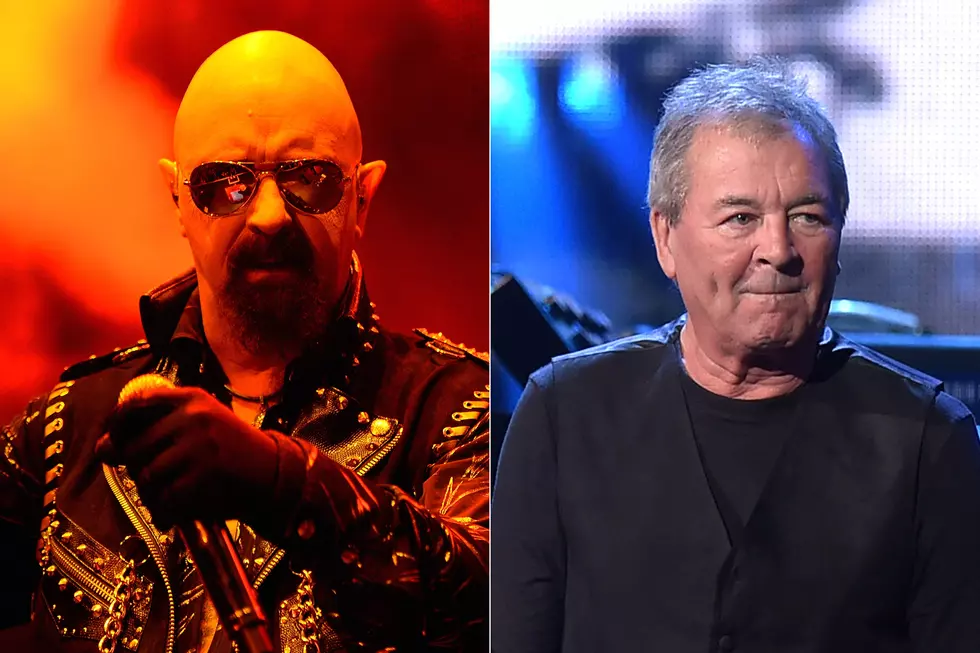 Judas Priest and Deep Purple Continue Their Legacies On Co-Headlining Tour
Credit: Ethan Miller / Theo Wargo, Getty Image
If, in the '70s or '80s, someone told you that both Judas Priest and Deep Purple would still be recording, touring and playing large venues in the 2010s, you might be surprised. If that  person also told you that they would be doing it without their respective guitar gods, you might not believe it. Purple without Ritchie Blackmore, and also minus their late, great keyboardist Jon Lord, was unthinkable. Yes, they tried to go on sans-Blackmore for their 1975 album Come Taste The Band, but they broke up soon after that.
Priest without the iconic K.K. Downing/Glenn Tipton team? Impossible!
Yet, both bands have figured out how to charge forward after some of their principal members have moved on (although it's worth mentioning that Tipton is still a member of Judas Priest, he just is unable to tour with the band, save for a few guest appearances, due to his struggle with Parkinson's Disease).
How did they do it? Well, it helps to have guitar players who attack the band's catalog with a true sense of purpose but are established enough to have their own style. Deep Purple's Steve Morse was a guitar hero in his own right before joining the band, thanks to a number of classic albums with the Dixie Dregs and on his own. Morse, who joined in 1994, has been in the band longer than Ritchie Blackmore was, and is a commanding force onstage with Purple.
Meanwhile, Judas Priest's Richie Faulker, still in his 30s, replaced K.K. Downing in 2011, and in recent years has gone from being "the new guy" to an important member of the band and a fan favorite. Andy Sneap, who is filling in for Glenn Tipton on the band's current tour, co-produced their latest album, Firepower, an album that has yielded a number of classics that hold up to the band's incredible catalog.
It also helps to have a founding member named "Ian" in the rhythm section. OK, that's a bit cheeky, but Priest's founding bassist Ian Hill, is underappreciated much in the way that Bill Wyman was in the Stones. The Stones haven't been the same since he left in '90; the same would be true of Priest without Hill. It just wouldn't be the same. He's also the only guy on stage to have played on all of Priest's albums. Same deal with Purple's Ian Paice, a rock-solid drummer, the only man to play on every single Purple album. When they encore with "Hush," paying tribute to their early days, Paice is the only member who played on the band's original recording of the song.
Both bands still have their iconic frontmen of course -- and both Judas Priest's Rob Halford and Deep Purple's Ian Gillian remain forces of nature.
So, if you're wondering if you still need to see these legendary bands, the answer is: yes.
Judas Priest and Deep Purple