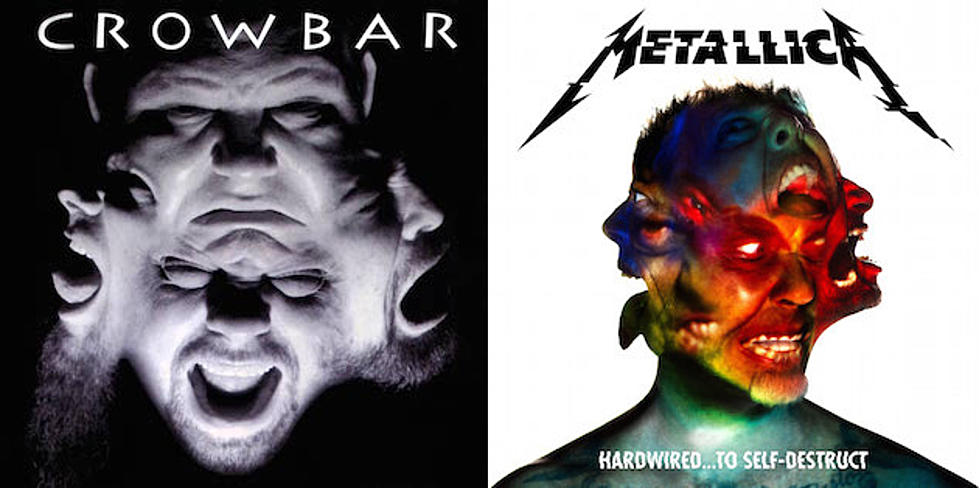 Kirk Windstein Comments on Artwork Similarities Between Crowbar and Metallica Albums
Snapper Music / Blackened Recordings
When Metallica released the details for their new album, Hardwired... To Self-Destruct, did you wonder if you may have seen the album cover before? If you did, you're not the only one! Fans have been pointing out the similarities between the Hardwired... To Self-Destruct artwork and the cover for Crowbar's 1998 disc Odd Fellows Rest. Crowbar mainman Kirk Windstein has now commented on the similarities, which are pretty striking, even down to the facial expressions.
As he pointed out on his Facebook page (shared with his wife Robin), Windstein noted he toured with Metallica while playing as a member of the Philip Anselmo-led sludge outfit Down. Confident the Bay Area legends are well aware of Crowbar, Windstein does not place blame on the band, nor point the finger at them for taking the same concept. If anything, he says the artist is responsible for the similarities. Windstein's post can be seen directly below.
Over the last 24 hours, fans have also been quick to argue similarities found between the Hardwired... album cover and Foo Fighters' Wasting Light (side-by-side seen below). Here, it's the color scheme that's more similar than the facial expressions. But as Windstein said, "any way you slice it... it's a cool cover idea!"
Metallica shocked the metal world when they dropped the news of their long-awaited new studio album. Along with the cover art and title, the thrashers released the track listing, revealing this newest platter of music will boast 12 tracks and span 80 minutes, enough to make it a double album. A music video for the opening track, "Hardwired," was also released.
See Where Metallica's Albums Landed on the Top 80 Hard Rock + Metal Albums of the 1980s
10 Unforgettable James Hetfield Moments