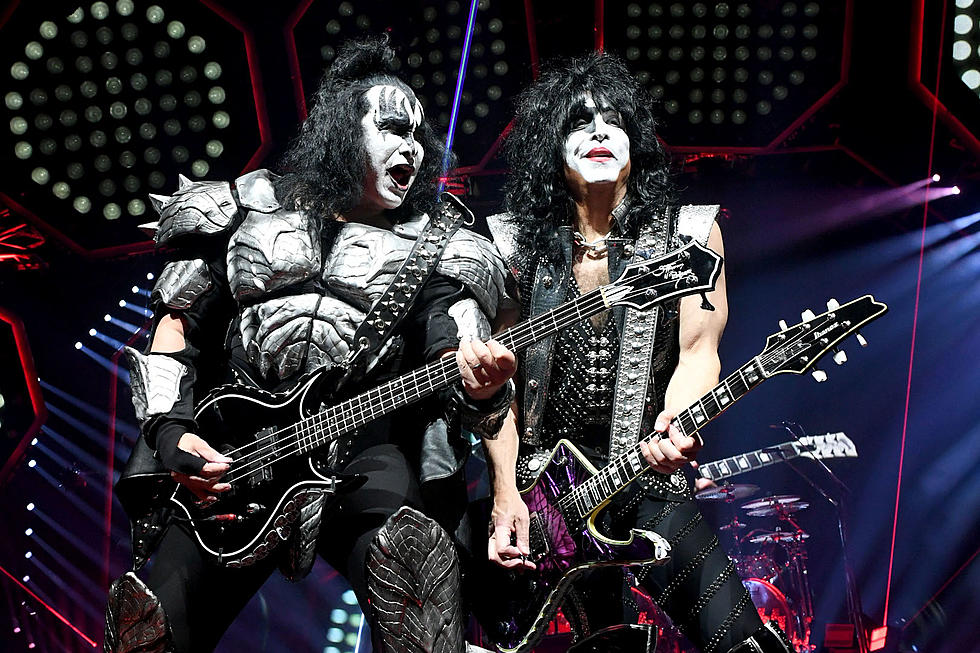 KISS Had the Highest-Grossing Hard Rock Tour of the Year in North America
Kevin Winter, Getty Images
KISS may not be able to draw an audience of sharks, but the rockers can undoubtedly pull big numbers when it comes to people. According to Pollstar's 2019 year-end special, the group's "End of the Road" tour was the highest-grossing hard rock or heavy metal tour of the year in North America.
Indeed, among the publication's Top 200 North American Tours for the year, KISS are the only hard rock or metal act among the Top 10. The "Rock and Roll All Nite" songsters played 67 concerts in as many cities in 2019, with total tickets sold at 800,302. The average amount sold at each gig was 11,945.
Naturally, the numbers are a little bit different worldwide. When the entire globe gets taken into account, Metallica had the highest-grossing hard rock or metal tour of 2019. See Pollstar's Top 10 rankings for both the North American and worldwide tours down toward the bottom of this post.
Pollstar 2019 Top 10 North American Tours
1. The Rolling Stones ($177.8M gross; 784,652 tickets sold)
2. Elton John ($157.4M gross; 1,155,510 tickets sold)
3. Bob Seger & the Silver Bullet Band ($97.0M gross;, 867,925 tickets sold)
4. Pink ($87.9M gross; 624,419 tickets sold)
5. Ariana Grande ($82.6M gross; 700,053 tickets sold)
6. Jonas Brothers ($81.7M gross; 769,310 tickets sold)
7. KISS ($81.6 M gross; 800,302 tickets sold)
8. Fleetwood Mac ($77.5M gross; 544,286 tickets sold)
9. Garth Brooks ($76.1M gross; 856,000 tickets sold)
10. Justin Timberlake ($75.6M gross; 568,449 tickets sold)
Pollstar 2019 Top 10 Worldwide Tours
1. Pink ($215.2M gross; 1,818,933 tickets sold)
2. Elton John ($212.0 gross; 1,566,241 tickets sold)
3. Ed Sheeran ($211.7M gross; 2,455,718 tickets sold)
4. Metallica ($179.0M gross; 1,742,908 tickets sold)
5. The Rolling Stones ($177.8M gross; 784,652 tickets sold)
6. BTS ($170.3M gross; 1,334,325 tickets sold)
7. Bon Jovi ($134.2M gross; 1,310,860 tickets sold)
8. Ariana Grande ($118.3M gross; 1,096,462 tickets sold)
9. Michael Bublé ($115.8M gross; 1,002,363 tickets sold)
10. Fleetwood Mac ($112.2M gross; 795,371 tickets sold)
See KISS in Top 50 Hard Rock + Metal Live Acts of All Time