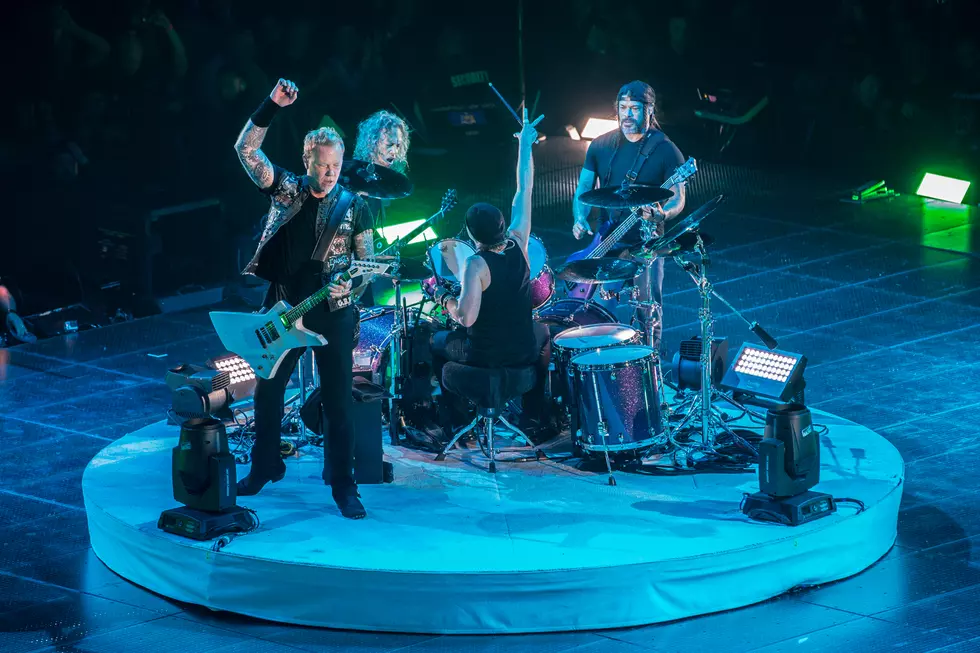 Metallica Begin 2018 Headlining Tour – See Set List
Johnny Perilla, Loudwire
Metallica kicked off the second leg of their North American WorldWired Tour last night (Sept. 2) in at the Kohl Center in Madison, Wis. Our friends at Ultimate Classic Rock dug up their set list, which you can see below.
The band performed 18 songs in total, including a number of classics and a few surprises. "For Whom the Bell Tolls," "Fuel" and "Enter Sandman" accompanied their first performance of "Cyanide" in roughly three years, a cover of local Wisconsin group Garbage's "Stupid Girl" and other notable moments.
The tour will resume tomorrow (Sept. 4) in Minneapolis. You can check out a full list of date and locations for the tour here.
Metallica, Kohl Center, Madison, Wis., Sept. 2, 2018 Set List
1. "Hardwired"
2. "Atlas, Rise!"
3. "Seek & Destroy"
4. "Cyanide"
5. "Fade to Black"
6. "Now That We're Dead"
7. "Confusion"
8. "For Whom the Bell Tolls"
9. "Halo on Fire"
10. "Last Caress"
11. "Fuel"
12. "Moth Into Flame"
13. "Sad but True"
14. "One"
15. "Master of Puppets"
Encore
16. "Spit Out the Bone"
17. "Nothing Else Matters"
18. "Enter Sandman"
There has been much discussion around the seemingly elusive release. In 2017 producer/engineer Toby Wright, who handled some of the engineering on Justice said he would "love to remix" the album. The longstanding issue around the album is the absence of Jason Newsted's bass.
In Feb. of this year, Justice mixer Steve Thompson claimed that Metallica don't have plans to remix the album. "I just contributed to the anniversary album of …And Justice [for All]," he told the Talk Toomey Podcast. "I just sent them a bunch of pictures and some outtakes, but they have no desire to remix the record. They want to keep it the way it is. They might remaster it or something like that, but there is only so much mastering you can do. And I'll tell you the truth, I don't even know if those original multi-tracks could be saved. Because there are like 5 million edits in them from Lars' drums alone. So if you have the box and open it up there probably be about 50 million pieces of tape all over the place."