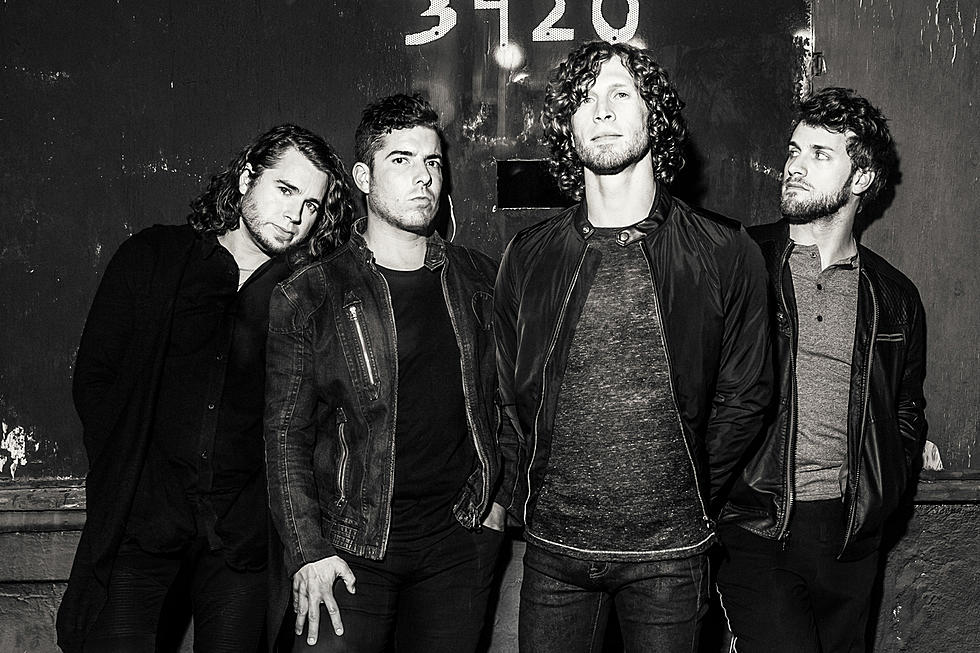 Nothing More Start 2019 With 'The Truth' Tour Featuring Of Mice and Men
Photo by Travis Shinn
Nothing More are ready to share "the truth" and nothing but the truth. The Grammy-nominated rockers kick off a headlining tour early 2019, continuing their support of The Stories We Tell Ourselves. They are calling the trek "The Truth Tour," which is rooted in the concept that art and music and the spirit of rock and roll are pure forms of truth that can bring people together, spark new ideas, inspire new ways of thinking and through that, trigger changes in ourselves and in our world.
"Concerts are perfect environments to stimulate the revelation of a truth, an 'Ah-HA!' moment, because we are all sharing the energy of the music and the moments of community and inspiration, moments that can affect a positive change," says vocalist Jonny Hawkins. "It's not about any one political movement or cause, it's about everybody searching for the truth in all things, and putting that new awareness into action."
Joining Nothing More on this run will be Of Mice and Men with Badflower and Palisades providing support on most dates. "This is our biggest headline tour yet so we are very excited to have such a great lineup," adds Hawkins. "We are all big fans of openers Badflower and Palisades, but especially Of Mice and Men, who we've always wanted to tour with."
In addition, Nothing More have teamed up with HeadCount, which is devoted to encouraging non-partisan voter registration, and To Write Love on Her Arms, the organization dedicated to helping those struggling with depression and addiction issues, as participants in the tour. Both organizations will be represented at all dates, and $1 from every ticket purchase will go to help the To Write Love on Her Arms organization.
"Over the years, through thoughtful songwriting and wearing TWLOHA gear on tour, Nothing More has consistently sought ways to include their fans in a search for truth," said TWLOHA'S Chad Moses. "We've seen firsthand how they empower their fans to embrace things that we believe to be true: that stigma surrounding mental health deserves to be challenged, that your story deserves an audience, and that together we can embody a defiant sense of Hope. We look forward to standing alongside Nothing More on this journey toward Truth."
"This is an exciting partnership for HeadCount, and we're thrilled to start our 2019 touring season with Nothing More. The tour reflects HeadCount's driving ethos that your vote is your Truth. We appreciate how Nothing More empowers and challenges their fanbase to become more engaged in the democratic process -- and the band leads by example with their own civic participation. We're looking forward to registering and educating voters with Nothing More and shedding light on just how easy it is to make your voice heard," adds Andy Bernstein, Executive Director of HeadCount.org.
General ticket sales will start this Friday (Oct. 12) at 10 AM local time, while specific pre-sale info and VIP options can be found via Nothing More's website.
Nothing More "The Truth" Tour 2019
Feb. 21 - Phoenix, Ariz. @ The Van Buren
Feb. 22 - Los Angeles, Calif. @ Belasco Theater*
Feb. 23 - Sacramento, Calif. @ Ace of Spades
Feb. 25 - Salt Lake City, Utah @ The Depot
Feb. 26 - Denver, Colo. @ Ogden Theatre
Feb. 28 - Oklahoma City, Okla. @ Diamond Ballroom
March 1 - Kansas City, Mo. @ The Truman
March 2 - Minneapolis, Minn. @ Skyway Theatre
March 3 - Chicago, Ill. @ House of Blues
March 6 - Grand Rapids, Mich. @ 20 Monroe Live
March 7 - Pittsburgh, Pa. @ Stage AE
March 8 - Philadelphia, Pa. @ The Fillmore
March 10 - New York, N.Y. @ Playstation Theatre
March 11 - Hartford, Ct. @ Webster Theater
March 12 - Boston, Mass. @ House of Blues
March 13 - Silver Springs, Md. @ The Fillmore
March 15 - Charlotte, N.C. @ The Fillmore
March 16 - Atlanta, Ga. @ Buckhead Theatre
March 17 - Tampa, Fla. @ The Ritz Ybor
March 19 - New Orleans, La. @ TBA **
March 20 - Houston, Texas @ House of Blues
March 22 - Dallas, Texas @ South Side Ballroom
March 23 - San Antonio, Texas @ Aztec Theatre
* Badflower will not be on this date
** Details to be announced
See The Stories We Tell Ourselves on the Best Hard Rock Albums of 2017
Revisit Nothing More + Of Mice & Men's Aaron Pauley Performing Audioslave's "Show Me How to Live" at the 2017 Loudwire Music Awards