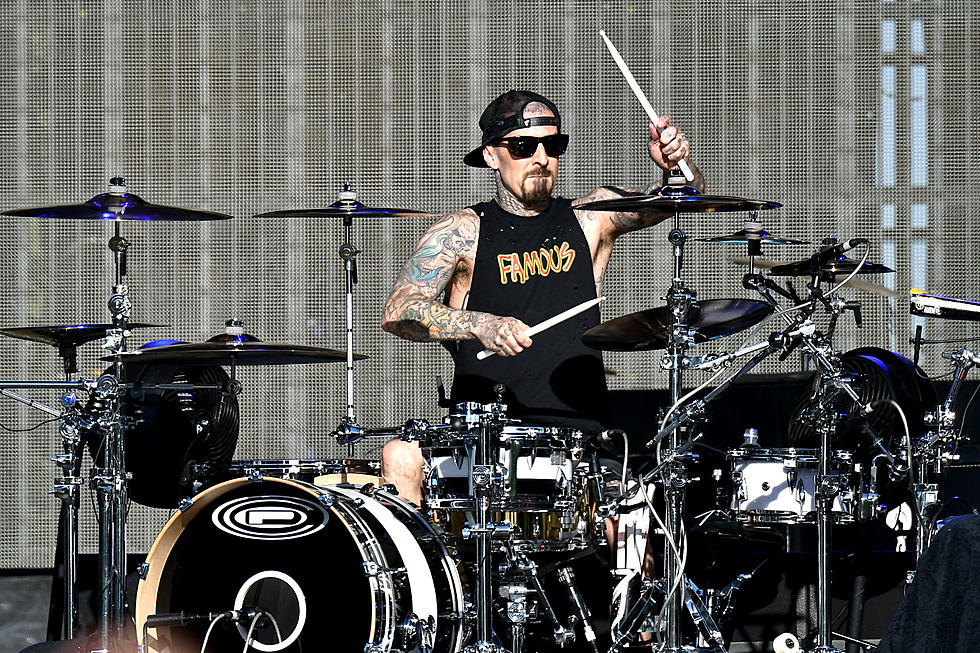 Report: Blink-182's Travis Barker Involved in Crash With School Bus
Gustavo Caballero, Getty Images
TMZ is reporting that Blink-182 drummer Travis Barker was involved in an automobile accident with a school bus early Friday (July 13) evening. According to the report, Barker was in the middle of turning his black Mercedes while a school bus was also turning and collided into him.
"Law enforcement sources" told TMZ that the bus was not carrying anyone other than the driver, and Barker was not at fault for the incident. There were passengers in the drummer's car, although no injuries were reported at that time. The vehicle's airbags, however, did deploy. Pictures of the aftermath can be found on TMZ's website.
Aside from this accident, Barker is also dealing with blood clots in his arms that have forced him to take a respite from drumming. Blink revealed the news in a statement saying he was being "closely monitored" and that they cannot perform until he is cleared by his medical team.
TMZ reported soon thereafter that Barker had been re-admitted to a Los Angelas-area hospital with a staph infection and cellulitis, which is a type of skin infection. At that time, doctors were reportedly seeing how his body responded to blood thinners, hoping that the clots didn't make their way to his heart or lungs.
Earlier this week a video was released updated fans on Barker's current state. In the clip, footage of the drummer playing with Blink gives way to a meeting with his doctor. His doctor reveals that he had the "trifecta" of infection, inflammation in his arms and superficial bloodclots. Barker was given a "week-by-week" approach, but his physician said he felt he'll be back soon.
Blink-182 are currently off the road, with plans to return Sept. 14 at Chicago's Riot Fest. They also have additional dates and more Las Vegas residency shows at the Palms Casino starting in October.
See where Barker ranked in our Top 66 Hard Rock + Metal Drummers of All Time list:
Blink-182 Apologizer to Fans Who Attended Fyre Festival