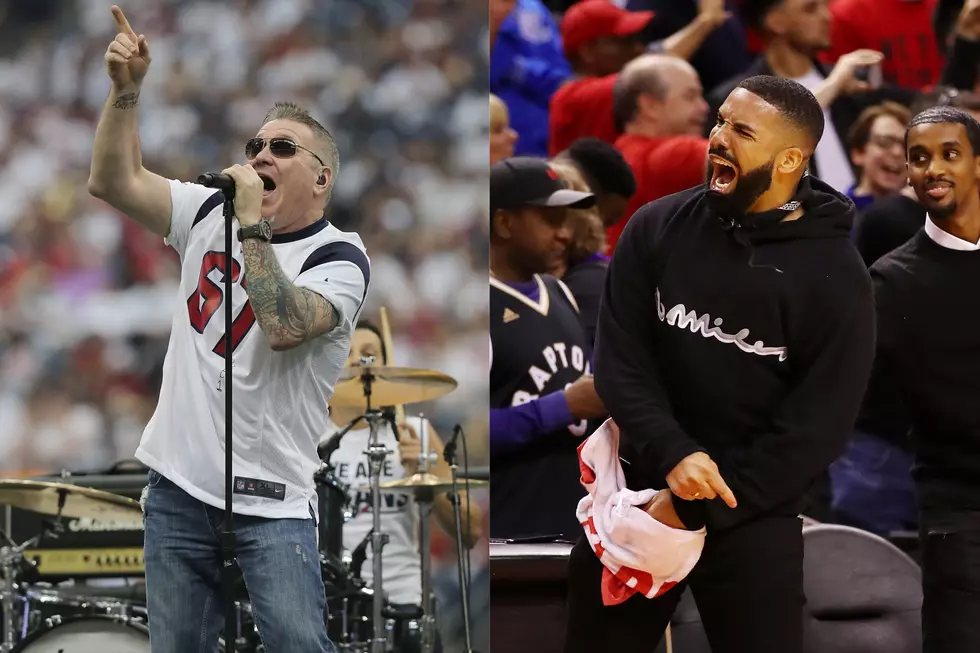 Smash Mouth Tell Drake to 'Sit the F–k Down' at Basketball Games
Thomas B. Shea/Gregory Shamus, Getty Images
Smash Mouth had some strong words for Drake this week surrounding the upcoming NBA Finals between the "All Star" rockers' local team, Northern California's Golden State Warriors, and the "God's Plan" rapper's hometown Toronto Raptors, for which he's a frequent and highly-visible fixture at the Canadian team's games, XXL has reported. It's not the first time the band have taken to social media to show their sports fervor. See the tweet down toward the bottom of this post.
"Yo @drake When the ball is in-play sit the FCK down!" the band tweeted Sunday (May 26) before issuing a warning about the Warriors' home turf. "That ain't gonna fly in Oakland!" Punctuated with the hashtag #GlorifiedMascot, the post from Smash Mouth tagged both basketball teams and the NBA, along with Bay Area rapper E-40.
Oakland is the home base of the Warriors, and the city is situated about an hour northwest of the band's San Jose origin point. Drake was born in Toronto, and he's often spotted courtside at the city's Scotiabank Arena, where he regularly provides "unnecessary visual accompaniment," the San Francisco Chronicle put forth.
Echoing that sentiment, WISN-TV illustrated Drake's reportedly obtrusive presence at Game 4 of the Eastern Conference Finals on Tuesday (May 24) between the Raptors and the Milwaukee Bucks. "During several points in the game, Drake stood on the court and taunted Bucks players," the news station reported.
The Chronicle also made note of Smash Mouth's previous sports tweets, one addressing the retirement of San Francisco Giants manager Bruce Bochy. Gawker extensively covered the band's tweets in the past.
The two-time defending champion Warriors take on the Raptors—who are making their first Finals appearance in franchise history—during Game 1 of the series, which tips off this Thursday, May 30, at 9PM ET on CBS Sports.
25 Awesome Celebrity Metalheads