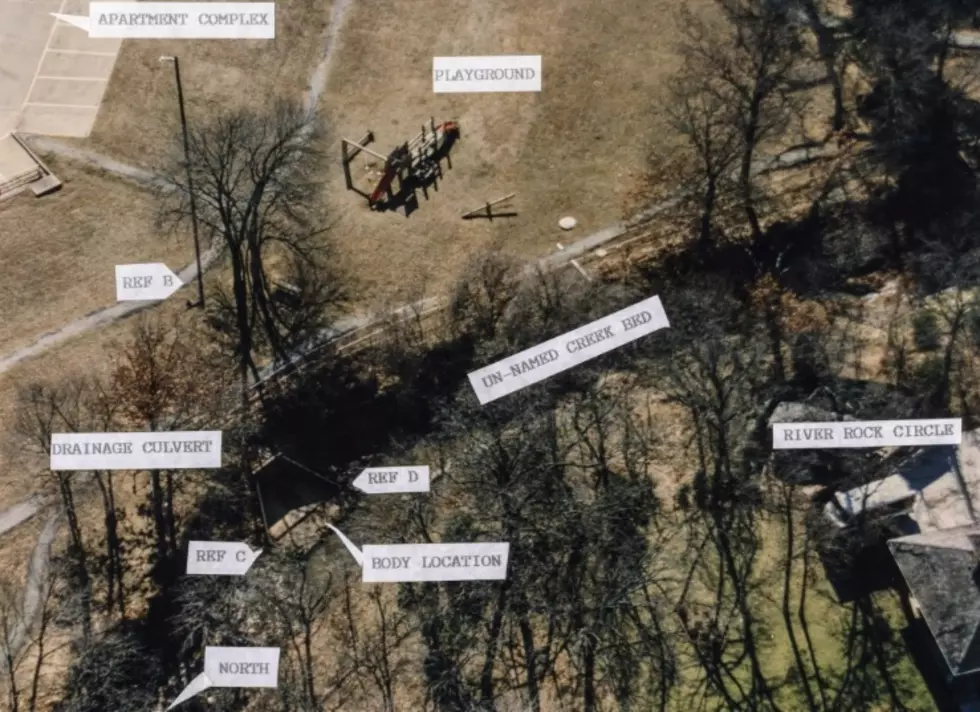 Texas 'Most Searched' True Crime Story: Amber Hagerman
via Arlington Police Department
It's no surprise that Texans still search for details and clues about the murder of Amber Rene Hagerman, in fact, it is the most searched-for true crime case in Texas. Her 1996 abduction and murder still remains unsolved, but in 26 years it has never once been a "cold case".
 ... for the Arlington Police Department, it has never been listed as a cold case because we've never gone 180 days without having some lead come in.
Amber was abducted in plain sight at 3 p.m. and within two blocks of her grandparents home. She had only been alone for a few minutes. An elderly man who witnessed the little girl scream, and who saw a white or Hispanic man pull her into a pickup, called 911 immediately. Her death just should not have happened, but it did.
She was found four days later near a creek wearing only one sock, her neck covered in lacerations from "a knife or a screwdriver", and as one detective said, "[Amber] had her eyes open and she was staring at me. I'm sorry."
Her body was found face down near a culvert drain. It had rained hard for Texas, about two inches during a thunderstorm. Thousands of gallons of water washed what was likely mountains of  evidence into the cold January mud.
Amber's death was a chilling warning to Texas parents. I was not much older than Amber when she died. I also had dark, blunt bangs and freckles. It's a wonder my mother ever let me out of the house again.
While Amber's death remains a devasting tragedy, it is one of the few cases in which anyone can say with complete certainty that yes, her death saved other children's lives. That's because Amber is also the namesake of the AMBER alert system, which has saved at least 1000 children since its implementation.
AMBER is a "backronym", that is, an acronym formed around an already existing word. It stands for America's Missing: Broadcast Emergency Response. The idea for AMBER alerts came from an Arlington woman who was haunted by Amber's murder
As Amber's family mourned their loss, however, a Texas mother named Diane Simone had an idea. She called a local radio station and wondered aloud about creating a national alert system for missing children.
There's still hope that Amber's killer will be brought to justice. Last year, on the 25th anniversary of Amber's abduction, Arlington police disclosed that they have DNA evidence. DNA technology has come a long way and the right break in the case could lead to a conviction.
But police still need someone who knows something to come forward, and they believe that person absolutely exists, but may be hesitant to come forward. 
There was a laundromat next to the Winn-Dixie in 1996, but detectives believe that potential witnesses may have been afraid to speak up out of fear of deportation.
Arlington police assure any witnesses that their immigration status is of no importance to them in this case. It is believed that Amber was kept alive for at least two days after her abduction, and that it is possible someone saw or heard something in that time.
Anyone who knows anything about the murder of Amber should call Arlington police detectives at 817-575-8823.
These 32 Texas Children Went Missing in July
The National Center for Missing and Exploited Children (NCMEC) says these 32 kids from across Texas were reported missing in the month of July. If you've seen any of them or have any information concerning their whereabouts, call 911 or the
NCMEC's
hotline: 1-800-THE-LOST (1-800-843-5678).
Unsolved Murders of Amarillo, Texas
These are the unsolved murders of Amarillo, Texas.
If you have any information or if you know something, call Amarillo Crime Stoppers at 806-374-4400.
Only 6 Women Are On Death Row In Texas. Here's A Look At Their Crimes.
**This story has been updated to reflect the current status of Melissa Lucio, who is scheduled to be executed on April 27th, 2022.**
Texas has the most active death chamber nationwide.
The six women on death row in Gatesville, Texas have been incarcerated for an average of almost two decades. Continue scrolling to see their stories.