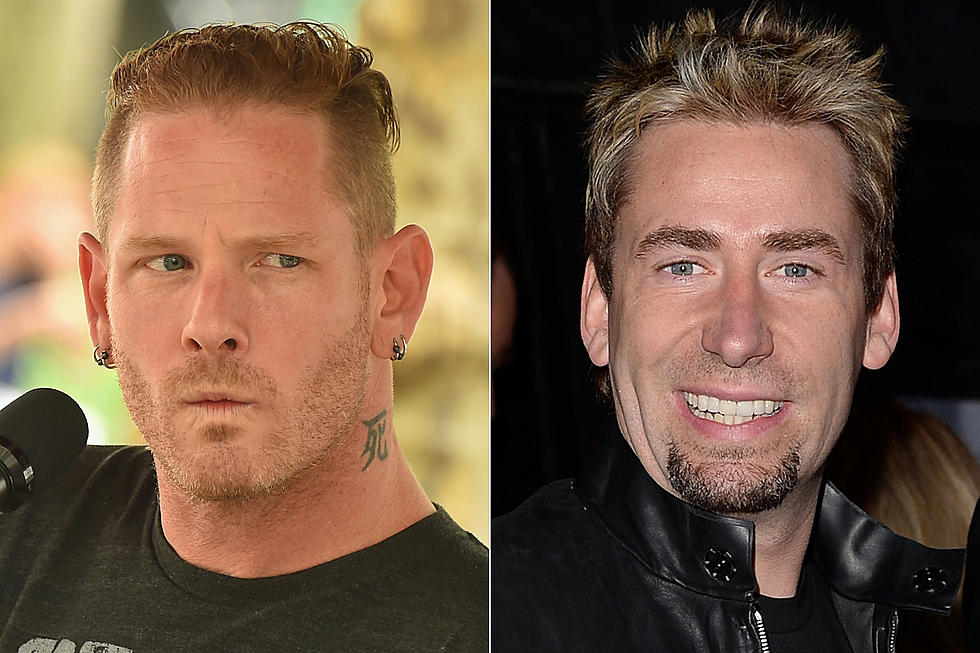 Corey Taylor: Nickelback Members Called to Apologize For Chad Kroeger's Comments
Theo Wargo / Jason Merritt, Getty Images
It looks like there's still no bad blood between Corey Taylor and every member of Nickelback not named Chad Kroeger. In a new interview with 93.3 WMMR, Taylor revealed the instrumental section of Nickelback called to apologize for Kroeger calling Stone Sour "Nickelback Lite."
The Stone Sour vs. Nickelback tuff has been well documented by now, with Kroeger even taking a shot at Slipknot for being a "gimmick" band. Never one to back down after being called out, Taylor fired back on multiple occasions. The feud has even spawned "F—k Nickelback" chants at Stone Sour's recent concerts.
"That just tells you the level of ego you're dealing with. And I've said this since day one — it's not the [rest of his] band. Because the [other guys in the] band turned around… As soon as that story hit, the band called and apologized," Corey revealed. "They were, like, 'It's not us. We promise. It's this guy. We don't…' And I had hung out with the band before and they're super-cool dudes. So I was, like… Well, I figured it wasn't them. So I don't want people holding it against the band, because it's not them. It's Captain Ego from Planet Douche."
The "F—k Nickelback" chants have apparently made their way to Nickelback's home country of Canada during Stone Sour's July 25 gig in Toronto. "It [happened] in Canada yesterday — [which is Nickelback's] stomping grounds," Taylor said. "I was, like, 'Maybe they're gonna come at us with some pushback.' [But they were the loudest chant.] It was funny. We were losing our minds. [We thought] this was obviously something they've been holding on to."
Where Does Corey Taylor Rank Among the Top 66 Hard Rock + Metal Frontmen of All Time?
10 Nastiest Rock Star Feuds