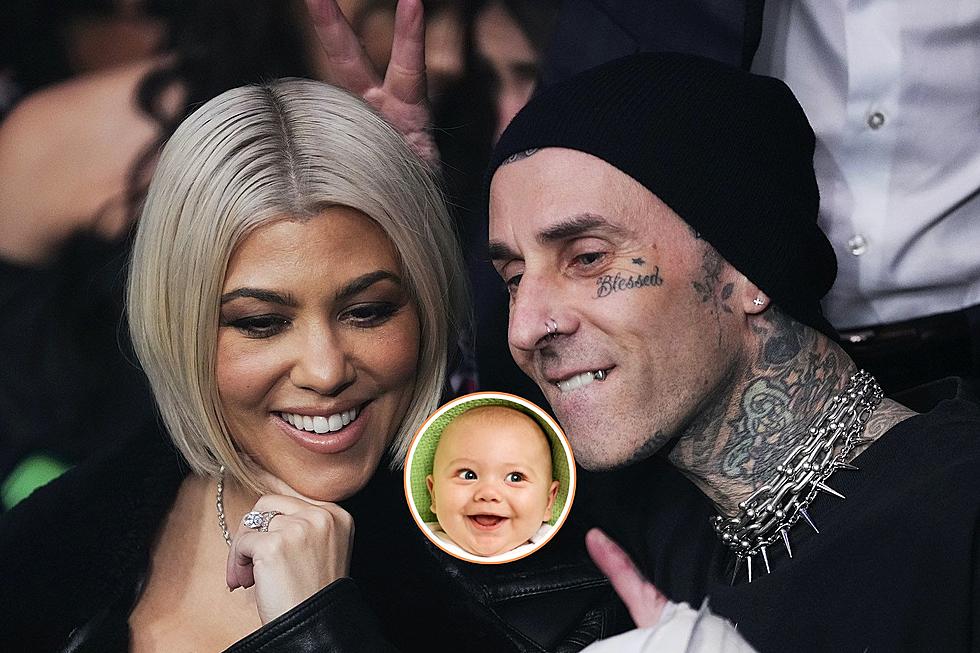 Travis Barker + Kourtney Kardashian Welcome First Child Together
Jeff Bottari/Zuffa LLC, Getty Images / jeannehatch, iStock / Getty Images Plus
Congratulations are in order for Travis Barker and Kourtney Kardashian, as the couple are currently celebrating the birth of their first child together: Rocky Barker.
Per People, the joyous event comes several weeks after pair suffered a "medical emergency" that nearly jeopardized the pregnancy. As Kardashian posted to social media this past September:
I will be forever grateful to my incredible doctors for saving our baby's life. I am eternally grateful to my husband who rushed to my side from tour to be with me in the hospital and take care of me afterwards, my rock. And to my mom, thank you for holding my hand through this. As someone who has had three really easy pregnancies in the past, I wasn't prepared for the fear of rushing into urgent fetal surgery. I don't think anyone who hasn't been through a similar situation can begin to understand that feeling of fear. I have a whole new understanding and respect for the mamas who have had to fight for their babies while pregnant. Praise be to God. Walking out of the hospital with my baby boy in my tummy and safe was the truest blessing.
Understandably, the crisis prompted Blink-182 to postpone four U.K. shows so that Barker could fly back to the U.S. to be with her. On Sept. 6, Barker tweeted: "God is great. I flew home for a life-threatening emergency surgery for our baby that I'm so grateful went well. I want to say thank you for all the support. Tour resumes Friday."
Indeed, Blink-182 played Belgium on Friday, Sept. 8 and continued from there.
As of now, no photos of Rocky Barker have been revealed, with the couple's latest social media posts together revolving around their Beetlejuice-inspired 2023 Halloween costumes.
READ MORE: Blink-182 Fans React to the Band's New Album 'One More Time'
The couple – who wed in 2022 – first announced that they were expecting back in June 2023, when Kardashian surprised Barker with the news at a Blink-182 concert in Los Angeles, Calif. Specifically, she recreated a section of the music video for the band's beloved "All the Small Things" by jumping up and down in the crowd while holding a sign that said: "Travis I'm pregnant." As Loudwire noted at the time, "they have been trying to have a baby for some time . . ., even going through in vitro fertilization (IVF) treatment at one point."
The same month, they held a gender reveal party (during which Kardashian sat on her husband's lap as he played a drum roll in anticipation of a canon explosion). Once it did, blue confetti launched into the air, confirming that their first child together would be a boy. Obviously, the crowd went wild, too.
Earlier this month, Loudwire reported on them announcing that the baby would be named Rocky. (While appearing on a recent episode of the One Life One Chance podcast, Barker even joked: "I was like, he's going to come out of my wife's vagina doing front kicks and push-ups.") During the episode, Barker also commented that the due date would probably be "either Halloween or, like, the first week of November."
Indeed, it was.
Obviously, Rocky Barker joins the extensive Barker-Kardashian family, with Travis Barker already having two children – Alabama and Landon Asher – with ex-wife Shanna Moakler and Kourtney Kardashian having three children – Mason, Penelope and Reign – with ex-husband Scott Disick.
Of course, this isn't the only reason Barker should be loving life lately, as Blink-182's latest album – One More Time… – recently released to plenty of love from fans. It's no wonder why, either, as it's the group's first new collection with the classic trio (Barker, guitarist/vocalist Tom DeLonge and bassist/vocalist Mark Hoppus) since 2011's Neighborhoods. Plus, it debuted at No. 1 on the Billboard 200. Oh, and it even features nearly a dozen outside songwriters.
On that note, Blink-182 are gearing up for a 2024 international tour in support of the record. You can check out all of the upcoming dates here and grab tickets here.
Congrats again to the happy couple!
Blink-182's Travis Barker Through The Years
Travis Barker of Blink-182 pictures
Gallery Credit: Todd Fooks