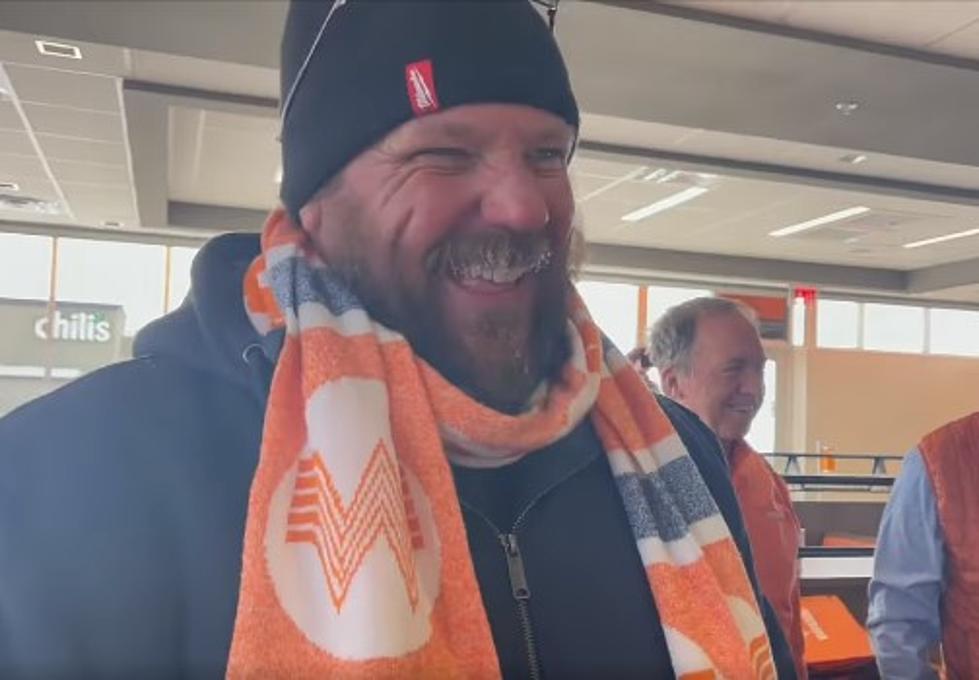 Lubbock, Texas Man Waits 4 Days in Subzero Weather to Be First Customer at New Whataburger
Chris Miller (Video screenshot: Ashley Portillo, KOAA News)
In Lubbock and in Texas, we all know and love Whataburger. I mean, I would do a lot for Whataburger, but not this.
The city of Colorado Springs, Colorado recently became the home of the first Whataburger in the state. And one Lubbock man really wanted some food.
According to KTEM NewsRadio 14, "Colorado Springs, by way of Lubbock, Texas, resident Chris Miller" waited for four days at a new Whataburger just to be the first customer at their grand opening event. How crazy, right?
Apparently, in the hours before 11 a.m. on the day of the opening more than a dozen people lined up outside the restaurant in temperatures that were as low as "6 below zero before they climbed to a feet-numbing 1 above."
Miller was satisfied with his food, of course.
"I love it. Ten out of 10; it's a 10, for sure," said Chris Miller, a Florida native who later moved to Lubbock, Texas, and now lives in Larkspur, where he operates a construction debris removal business.
Not only that, according to The Gazette, Miller used his Whataburger scarf and space heater to keep warm while waiting the four days in his truck, all for free Whataburger for a year, the prize guaranteed to the store's first customer.
The Gazette also said he didn't actually wait outside the whole time. He stayed in his pickup truck, kept an eye on his spot in line, and even took a few shower breaks while his wife Autumn relieved him when needed.
Want to know how awesome Miller is? He even helped the new Whataburger employees shovel snow in front of the restaurant. All the hard work was worth it. Miller was indeed the first customer and was awarded a gift basket of swag along with the best part: Whataburger food for a year.
Here's video of Miller on the big day via KOAA News reporter Ashley Portillo:
Congratulations, Chris! We're all so proud of you. I definitely couldn't have done this. Enjoy the year's worth of delicious Whataburger.
PSST: Check Out The Whataburger Secret Menu
The items are available year round, but make sure you're grabbing breakfast items and lunch items during those respective times.
12 Weird Whataburger Gifts
Shopping for a Texan can be difficult. It's a scientific fact that Texans have refined taste and a cheap trinket will not do. One way to ensure a great gift is to buy something that says "Texas" loud and proud.