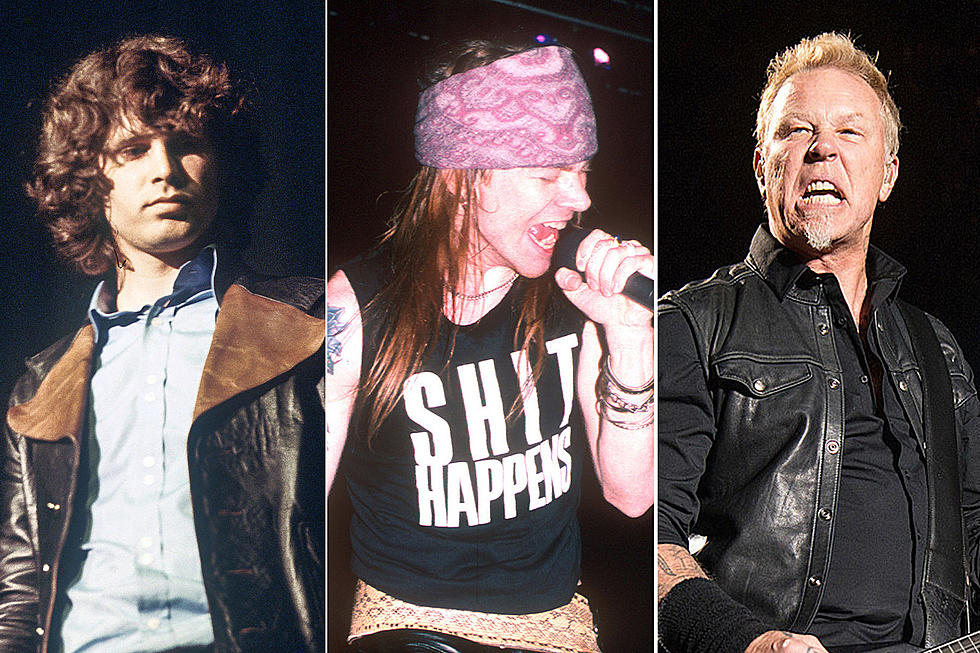 The 8 Most Controversial TV Performances in Rock + Metal
picture alliance via Getty Images / Jeffrey Mayer, Getty Images / Amy Harris for Loudwire
Being invited to play live on television is a sure sign for a band that their career is taking off.
Televised musical performances have been a thing for decades now. The Ed Sullivan Show was a popular one that began broadcasting in 1948, but they didn't always go as planned.
According to the show's website, Sullivan initially refused to book Elvis Presley as a performer due to the controversy over his onstage "dance moves," but he eventually gave in after a competitor had the rocker play.
Needless to say, the gyrations ensued, but the show got good ratings because of 'em.
If sexy dancing had Sullivan worried, he and other television hosts had no idea what was to come with the rebellious bands toward the end of the '60s, especially the Doors.
Fast forward some years and you have "the most dangerous band in the world" set to play a show at the Ritz in New York, which was broadcasted by MTV. Hint — their red-headed, bandana-wearing frontman had a bit of a reputation for being maniacal onstage.
Yep, you guessed it: Guns N' Roses.
There were some other MTV performances later on that are listed below, but things tended to get interesting pretty often on Saturday Night Live. Fear? Rage? We're looking at you both.
So, we've compiled a list of controversial television performances by musical artists — ones that could've gotten them into trouble with the networks for either not following the rules or just acting flat-out reckless.
We think Rose Tattoo put it rather simply — "nice boys don't play rock 'n' roll." Check out the list below.
1

The Doors on The Ed Sullivan Show

The Doors were invited to perform on the Ed Sullivan Show in 1967 when their song "Light My Fire" became a No. 1 hit. The show's website details that Sullivan personally went into the band's dressing room before the performance and asked them to change one of the lyrics from "Girl we couldn't get much higher" to "Girl we couldn't get much better." Jim Morrison, notorious for his rebellious behavior, still sang the original lyric when the show was being filmed. The 1991 film The Doors depicted the frontman emphasizing the word during his delivery, which didn't actually happen — but the group was still banned from the show afterward nonetheless.

2

Nirvana at the MTV Awards

Nirvana were invited to play at the MTV Awards in 1992, as they were nominated for several categories after the success of Nevermind and "Smells Like Teen Spirit." They wanted to play their latest single "Rape Me," but MTV weren't keen on the lyrics. Kurt Cobain and MTV went back and forth over it for a few days leading up to the ceremony, but according to Come As You Are: The Story of Nirvana, the band agreed to play "Lithium" after the network threatened to fire an employee of theirs who was also friends with the band. Cobain still strummed and sang the first few lines of "Rape Me" before they broke out into "Lithium," though.

3

Guns N' Roses at the Ritz for MTV

Less than a year after the release of the monstrous Appetite for Destruction, Guns N' Roses played a sold-out show at the Ritz in New York that was to be filmed by MTV. Stephen Davis' Watch You Bleed: The Saga of Guns N' Roses notes that the channel asked the band to try to limit swearing, especially in songs such as "It's So Easy" where there is a lot of profanity, so that they wouldn't have to repeatedly edit the film. However, Axl Rose wanted to get the crowd off, so he ignored the request. There is uncut footage from the performance, which you can see above.

4

The Who on The Smothers Bros Comedy Hour Show

The Who were a rising band when they were invited to play on The Smothers Brothers Comedy Hour in 1967, but drummer Keith Moon already had a reputation for being reckless. Toward the end of their performance of "My Generation," Moon detonated an explosive inside of his bass drum. The impact resulted in an injury to the drummer's arm, nearly destroyed the set and caused guitarist Pete Townshend to lose his hearing in one ear. Talk about ending a show with a bang!

5

Elvis Costello on Saturday Night Live

Elvis Costello appeared on Saturday Night Live in December of 1977, and he was set to play "Less Than Zero." However, after he and his band had already broken into the song, he cut it short and said, "I'm sorry, ladies and gentlemen, but there's no reason to do this song here." Instead, they broke out into "Radio Radio," which takes a dig at commercial broadcasting. Fitting!

6

Rage Against the Machine on Saturday Night Live

Sadly, you don't actually get to see what went down during Rage Against the Machine's performance on Saturday Night Live in 1996. However, it got them banned from the show for good. Far Out Magazine recalls that RATM hung American flags upside down behind them just before they broke out into "Bulls on Parade," but the crew took them down before the filming began. While the band was waiting backstage to play a second song, they were told that their performance was done. Steve Forbes was the guest-host of the show that night, too, which made it even more of a statement.

7

Metallica at the MTV Europe Music Awards

Don't ever tell Metallica that they can't curse during their performances, or they're gonna get pissed off. Prior to their set at the MTV Europe Music Awards in 1996, Metallica were told just that. So, instead of playing the planned "King Nothing," they played a cover of the Misfits' "Last Caress" and Anti-Nowhere League's "So What?" We don't have to explain to you why this made for a controversial performance that nearly got them banned. Watch it for yourself.

8

Fear on Saturday Night Live

Fear were invited by none-other-than John Belushi to perform on Saturday Night Live on Halloween in 1981. We're not really sure what the show crew expected to happen, but Fear allowed their fans to come down and form a mosh pit around the stage while they performed. The New York Post later claimed that the night resulted in $200,000 in damages to the studio, and thus, they were banned from ever playing on the show again.