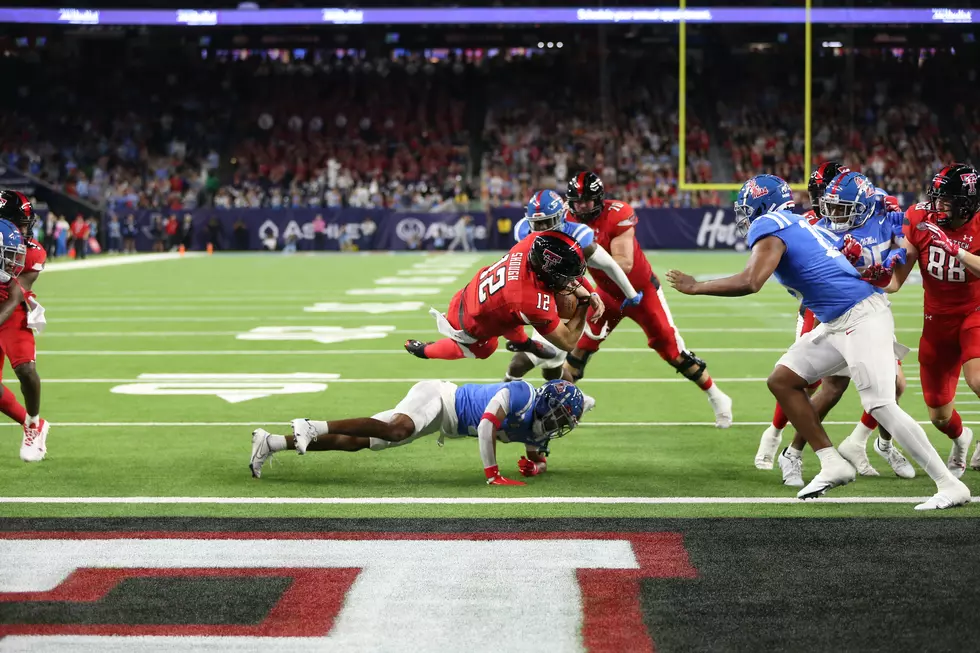 Texas Tech Owns A Mississippi School in Second Straight Bowl Game
Paul Roberts, KKAM.com
Last season, interim head coach Sonny Cumbie led the Red Raiders to a Liberty Bowl victory over Mississippi State 34-7. Fast forward a year and head coach Joey McGuire has led the Red Raiders to a victory over Ole Miss and Lane Kiffin with a final score of 42-25.
The Red Raiders dominated the middle portion of the game outscoring the Rebels 16-6 in the 2nd and 3rd quarters. Tyler Shough was the Red Raiders' offense today with more than 350 total yards and three total touchdowns. Among those 350 total yards was 111 on the ground on 25 carries, most of which were designed quarterback runs.
With the win, Shough is now 8-1 as the starting quarterback at Texas Tech and said after the game he'd return in 2023, "We've got unfinished business here, I'm coming back." It's major news for Texas Tech that also returns Tahj Brooks who had 90 yards of his own on the ground. Also back in 2023 will be Jerand Bradley who had 8 catches for 88 yards and a touchdown along with Loic Fouonji who caught 7 balls for 100 yards.
That's a fraction of the returners for the Red Raiders who finish 8-5 for the first time since 2013 with the Texas Bowl victory.
Defensively, Texas Tech was really good for most of the game holding Ole Miss to just 192 yards rushing, more than 70 yards below their season average. The Red Raiders also forced 5 turnovers winning the turnover battle at a +2 margin with the offense cashing in 16 points off turnovers to Ole Miss' single touchdown off of a turnover.
The real difference of the game might have been the story on 4th downs, as it is in most Joey McGuire games. The Red Raiders were 5 of 6 on 4th down conversions while the Rebels were a paltry 2 for 7. The penalty yards were also a tremendous difference with Texas Tech playing a disciplined game with 15 total yards on penalties while Ole Miss had two targeting penalties and more than 80 yards of free penalty yards given to Texas Tech.
Overall, the game provides some solid closure for the first year of the Joey McGuire Era and some serious momentum for the 2023 season.
As Joey McGuire said after the game while accepting the Texas Bowl trophy, "You ain't seen nothing yet."
Texas Tech Football vs Ole Miss in the Texas Bowl
Texas Tech Dominates Mississippi State at AutoZone Liberty Bowl (December 28th, 2021)