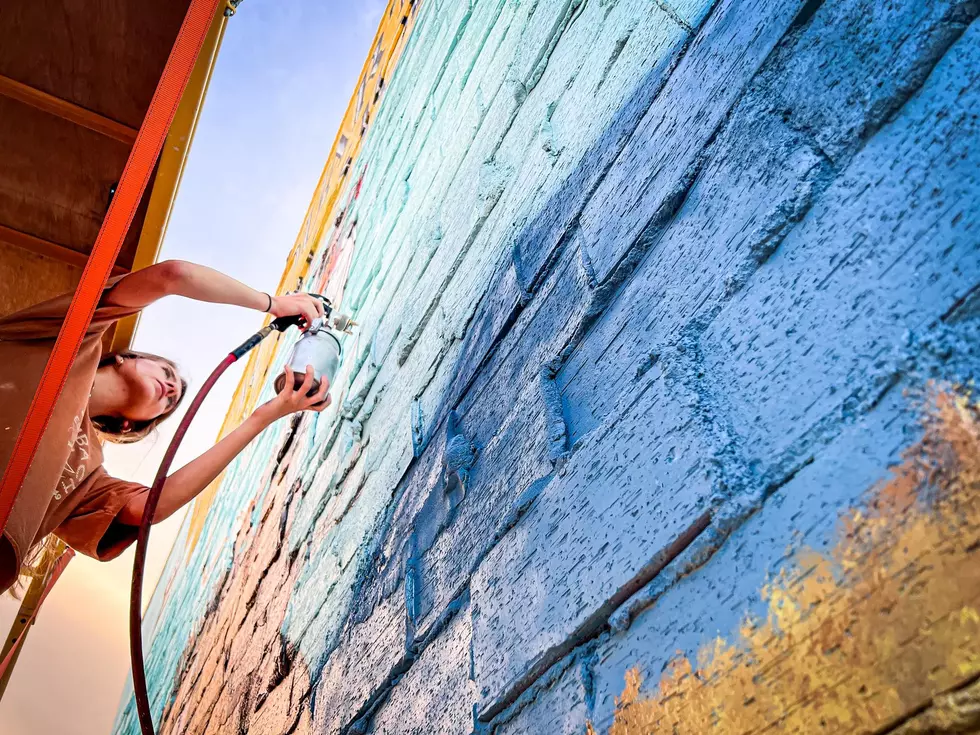 Texas Tech Student Spruces Up Small Town With Beautiful New Mural
Photo: Steven Ellis
Lexi Haag is a 22-year-old Texas Tech Student currently painting her way through college. It seems to me that she's doing a pretty good job of it.
Born in Sweetwater and growing up in Colorado City, Texas, Haag said she's always loved to draw. She even created an incredible mural for a small town.
When driving through Aspermont, Texas, there's not a whole lot that catches your eye. A few restaurants and motels. An Allsup's. A Dairy Queen. The usual staples of a town with a population of under 1,000. Now, residents, travelers and passersby have something new and exciting to check out.
When HEADQUARTERS GENERAL STORE opened in February in a smaller space one street over from where the business currently exists, it quickly became obvious a larger space would be needed. With early success, owners Prairie Flowers-Bradley and Lisa Flowers acquired a larger property just around the corner in a building on Broadway, the main street that runs through the city.
Over the past year, I've been spending more time in the small town of Aspermont because, well, that's where my boyfriend lives. During early August, I noticed a small group of people gathered on the east side of one of the buildings located across the street from the town square. With backs to the morning sun and necks craned, onlookers gazed at the beginning strokes of what would become a huge mural.
The section of brick that's roughly 25 feet by 30 feet was hard to miss. I would watch the mural first take form and then emerge into something fantastic over the span of 2 or 3 weeks before it was finished. Haag added her signature to it in early September.
Incredible New Mural In Aspermont, Texas
In the background of the mural are light blue skies over a darker shaded profile of The Double Mountains, which are located just a peck southwest of Aspermont and are immediately recognizable by locals and residents from nearby counties.
The foot of the mountains gives way to dark green vegetation which changes into a light-colored open area of sand or dirt. In the foreground, the focus of the piece is a bronc rider wearing brown boots, chaps, a hat, a white long-sleeved shirt with blue jeans, and a red bandana tied around his neck. He's doing his best to hold a cup of coffee atop a bucking bronc. All four hooves are off the ground as they kick up dust.
The image is centered between two large patches of blooming prickly pear cacti, green in color with red blooms emanating from the pears. Centered atop rests the name of the business located inside the brick building: HEADQUARTERS GENERAL STORE. The letters are in something of a "saloon" font painted in black and white. The background of the store title is yellow, a contrast to the light blue skies. A black and white arrow lies behind the title portion, the fletching protruding from the left and the arrow pointing from the right.
When asked what gave the store owners the idea to add a mural on the side of the new building, Lisa and Prairie said, "We just thought it was a cool idea and we thought the town could use one." As a lover of art, I wholeheartedly agree.
Over the last few years, the City of Aspermont has been working towards a beautification process of sorts, and Haag's work for HEADQUARTERS GENERAL STORE is a great start.
When discussing the idea of a mural, Lexi's grandmother, Mrs. Jerre Haag, mentioned her granddaughter's name, and the rest was history. Having worked on projects around Colorado City and bringing home a 1st place award at The West Texas Fair And Rodeo, she definitely has the chops.
I'm interested in seeing what this young lady does next with her skills. We'll for sure be keeping our eyes peeled for more art from Lexi Haag.
7 Poisonous Plants in Texas That Could Kill You
10 Lubbock Restaurants Our Parents Took Us to Growing Up
Top 7 Mispronounced Town Names That Prove You're Not From Lubbock