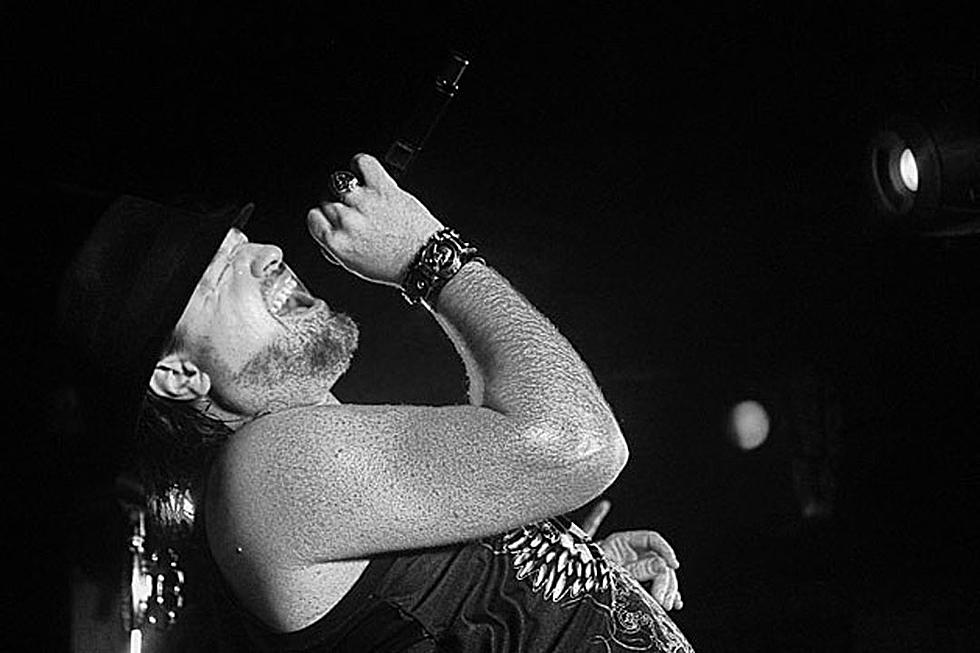 Symphony X Singer Russell Allen Injured During Trans-Siberian Orchestra Rehearsal
Liz Ramanand, Loudwire
Apprising fans of the situation on Monday (Nov. 11), Trans-Siberian Orchestra explained that Allen is experiencing some pain from the injury but remains otherwise cheerful. However, the statement leaves unclear if the vocalist will be able to tour with the band this fall and winter. Read the group's update down toward the bottom of this post.
"We are here in the midwest preparing to give you one of the most exciting TSO productions you have ever seen," the statement reads. "During rehearsal, Russell Allen slipped and fell. Russell is in good spirits but in a bit of pain. We are doing everything necessary to assure Russell is taken care of. We hope he is able to make it out on the road in the near future but our concern is that he rests so he can make a full recovery."
In August, Trans-Siberian Orchestra announced their annual run of late-year tour dates. The 2019 spate of shows is set to kick off Wednesday (Nov. 13) with a pair of performances at Green Bay, Wisconsin's Resch Center. The tour continues throughout the U.S. until the end of the year.
Trans-Siberian Orchestra 2019 North American Tour Dates
Nov. 13 - Green Bay, Wis. @ Resch Center (4 PM, 8 PM)
Nov. 13 - Council Bluffs, Iowa @ Mid America Center (7:30 PM)
Nov. 14 - Sioux Falls, S.D. @ Denny Sanford Premier Center (7:30 PM)
Nov. 15 - Youngstown, Ohio @ Covelli Center (3:30 PM, 7:30 PM)
Nov. 16 - Allentown, Pa. @ PPL Center (3:30 PM, 8:00 PM)
Nov. 16 - Denver, Colo. @ Pepsi Center (3:00 PM, 8:00 PM)
Nov. 17 - Worcester, Mass. @ DCU Center (3:00 PM, 8:00 PM)
Nov. 17 - Colorado Springs, Colo. @ World Arena (3:00 PM, 7:30 PM)
Nov. 20 - Raleigh, N.C. @ PNC Arena (7:30 PM)
Nov. 20 - Salt Lake City, Utah @ Vivint Smart Home Arena (3:30 PM, 7:30 PM)
Nov. 21 - Baltimore, Md. @ Royal Farms Arena (7:30 PM)
Nov. 21 - Boise, Idaho @ Taco Bell Arena (7:30 PM)
Nov. 22 - Wilkes Barre, Pa. @ Mohegan Sun Arena (3:30 PM, 8:00 PM)
Nov. 22 - Spokane, Wash. @ Spokane Veterans Memorial Arena (8:00 PM)
Nov. 23 - Manchester, N.H. @ SNHU Arena (3:30 PM, 8:00 PM)
Nov. 23 - Portland, Ore. @ Moda Center (3:30 PM, 8:00 PM)
Nov. 24 - Hartford, Conn. @ XL Center (3:00 PM, 7:30 PM)
Nov. 24 - Tacoma, Wash. @ Tacomadome (3:30 PM)
Nov. 26 - San Jose, Calif. @ SAP Center at San Jose (8:00 PM)
Nov. 27 - Toledo, Ohio @ Huntington Center (4:00 PM, 8:00 PM)
Nov. 29 - Cincinnati, Ohio @ US Bank Arena (4:00 PM, 8:00 PM)
Nov. 29 - Sacramento, Calif. @ Golden 1 Center (3:00 PM, 7:30 PM)
Nov. 30 - Dayton, Ohio @ Nutter Center (3:00 PM, 8:00 PM)
Nov. 30 - Ontario, Calif. @ Toyota Arena (3:30 PM, 7:30 PM)
Dec. 01 - Grand Rapids, Mich. @ Van Andel Arena (3:00 PM, 7:30 PM)
Dec. 01 - Phoenix, Ariz. @ Talking Stick Resort Arena (3:00 PM, 7:30 PM)
Dec. 04 - Nashville, Tenn. @ Bridgestone Arena (7:30 PM)
Dec. 04 - El Paso, Texas @ Don Haskins Center (3:00 PM, 7:30 PM)
Dec. 05 - Lexington, Ky. @ Rupp Arena (7:30 PM)
Dec. 05 - Lubbock, Texas @ United Supermarkets Arena (7:00 PM)
Dec. 06 - Greenville, S.C. @ Bon Secours Wellness Arena (4:00 PM, 8:00 PM)
Dec. 06 - Wichita, Kan. @ INTRUST Bank Arena (8:00 PM)
Dec. 07 - Charlotte, N.C. @ Spectrum Center (3:00 PM, 8:00 PM)
Dec. 07 - Kansas City, Mo. @ Sprint Center (3:00 PM, 8:00 PM)
Dec. 08 - Duluth, Ga. @ Infinite Energy Center (3:00 PM, 7:30 PM)
Dec. 08 - Oklahoma City, Okla. @ Chesapeake Energy Arena (3:00 PM, 7:30 PM)
Dec. 11 - Greensboro, N.C. @ Greensboro Coliseum (7:30 PM)
Dec. 11 - Birmingham, Ala. @ Legacy Arena at The BJCC (7:30 PM)
Dec. 12 - Charlottesville, Va. @ John Paul Jones Arena (7:30 PM)
Dec. 12 - Jacksonville, Fla. @ Jacksonville Veterans Memorial Arena (7:30 PM)
Dec. 13 - Hershey, Pa. @ Giant Center (4:00 PM, 8:00 PM)
Dec. 13 - Sunrise, Fla. @ BB&T Center (8:00 PM)
Dec. 14 - Buffalo, N.Y. @ KeyBank Center (3:30 PM, 8:00 PM)
Dec. 14 - Orlando, Fla. @ Amway Center (3:00 PM, 8:00 PM)
Dec. 15 - Philadelphia, Pa. @ Wells Fargo Center (3:30 PM, 8:00 PM)
Dec. 15 - Tampa, Fla. @ Amalie Arena (3:00 PM, 7:30 PM)
Dec. 18 - Rochester, N.Y. @ Blue Cross Arena (7:30 PM)
Dec. 18 - New Orleans, La. @ Smoothie King Center (7:30 PM)
Dec. 19 - Albany, N.Y. @ Times Union Center (7:30 PM)
Dec. 19 - Memphis, Tenn. @ Fedex Forum (7:30 PM)
Dec. 20 - Uniondale, N.Y. @ NYCB LIVE Nassau Veterans Memorial Coliseum (8:00 PM)
Dec. 20 - Tulsa, Okla. @ BOK Center (8:00 PM)
Dec. 21 - Newark, N.J. @ Prudential Center (3:00 PM, 8:00 PM)
Dec. 21 - Dallas, Texas @ American Airlines Center (3:00 PM, 8:00 PM)
Dec. 22 - Pittsburgh, Pa. @ PPG Paints Arena (3:30 PM, 8:00 PM)
Dec. 22 - Houston, Texas @ Toyota Center (3:00 PM, 8:00 PM)
Dec. 23 - Washington, D.C. @ Capital One Arena (3:00 PM, 7:30 PM)
Dec. 23 - San Antonio, Texas @ AT&T Center (3:30 PM, 8:00 PM)
Dec. 26 - Columbus, Ohio @ Nationwide Arena (3:00 PM, 8:00 PM)
Dec. 26 - St Louis, Mo. @ Enterprise Center (3:00 PM, 7:30 PM)
Dec. 27 - Cleveland, Ohio @ Rocket Mortgage FieldHouse (3:00 PM, 8:00 PM)
Dec. 27 - Milwaukee, Wis. @ Fiserv Forum (3:30 PM, 8:00 PM)
Dec. 28 - Detroit, Mich. @ Little Caesars Arena (3:00 PM, 8:00 PM)
Dec. 28 - St Paul, Minn. @ Xcel Energy Center (3:00 PM, 8:00 PM)
Dec. 30 - Toronto, Ontario @ Scotiabank Arena (3:00 PM, 8:00 PM)
Dec. 30 - Chicago, Ill. @ Allstate Arena (2:30 PM, 8:00 PM)
100 Metal Facts You May Not Know