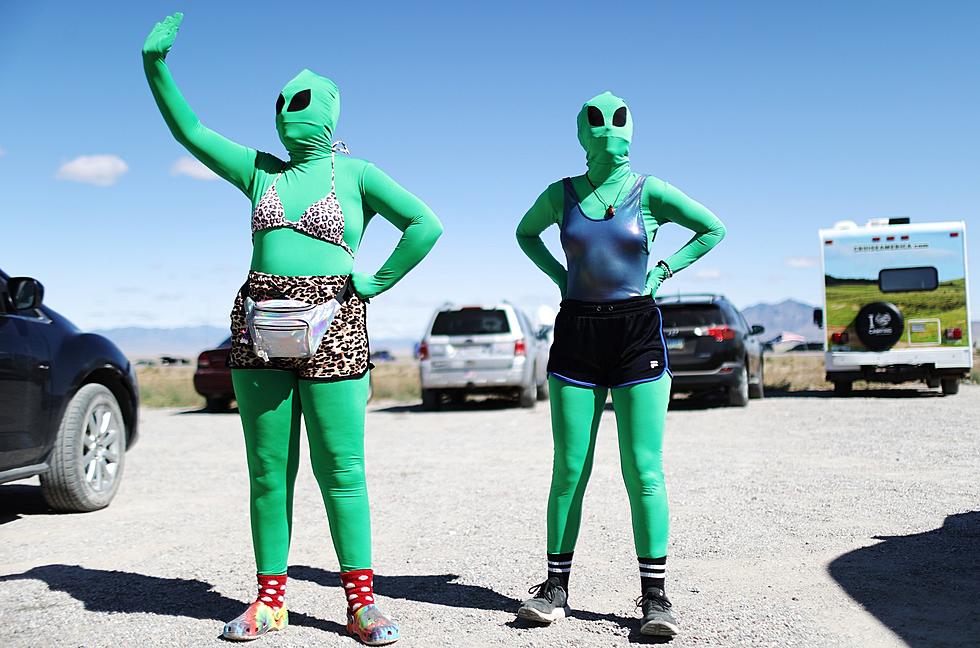 UFO Festival Promises An Out Of This World Weekend In Roswell NM
Getty Images
Roswell, NM, is preparing to welcome thousands of spectators for the highly anticipated UFO Festival this weekend.  
For the last 24 years (minus 2020), the annual UFO Festival has been entertaining families and alien enthusiasts on all things extraterrestrial. 
This year Roswell NM welcomes families and fellow extraterrestrial enthusiasts to celebrate all things alien, featuring entertainment, guest speakers, movies, battle of the bands, and much more.  
The festival, which expects over 80,000 visitors from all over the world, will descend on Roswell, NM, to be part of the historic day that occurred 74 years ago.  
Listen to Monika middays all week on 93.1 KISS-FM and download our free 93.1 KISS-FM App.
Roswell, NM, is the site of the famous "UFO crash" that allegedly occurred in 1947, where the Army initially reported a UFO crash but then quickly reissued a new statement saying it was instead a weather balloon.  
Whatever occurred that day in 1947 has always been shrouded in mystery; even though the Pentagon has changed its story several times over the years, no current explanation has changed the minds of UFO enthusiasts to this day.  

Whether you're a spectator or a participant, the 3-day UFO Festival will have a little bit of something for everyone, including:
Intergalactic cinema experience featuring MIB, Close Encounters of the Third Kind, and Spaceballs.


Abduction parade

Alien Chase 5K

Roswell UFO Spacewalk (a walk-through blacklight alien adventure)
Scavenger Hunt
Spaceport Roswell (A Virtual Reality Experience that sends travelers on epic adventures through time and space)
Arts & Craft Fair
Night Sky Event
Alien Open Golf Tournament
And so much more - For a complete list of scheduled events, CLICK HERE.

TICKETS
Tickets are on sale now, from individual event pricing to VIP and even an abduction ticket and RV packages are also available.
Admission will vary depending on which daily event you plan to attend, with prices ranging from $8.50 to $200.
Close Encounter Abduction Ticket: $50
Get abducted and be a part of the parade as an active participant - ticket also includes an abduction T-shirt and an invitation to sit on one of the floats as a guest for the entirety of the parade.
VIP Tickets: $100 - $200
VIP tickets are available for kids, teens, and adults. VIP tickets include a variety of perks during the 3-day festival.
RV Packages: $300 - $800
IF YOU GO
Distance From El Paso:

3

hr 54 min

(225.2 mi) via US-54 E and US-82 E
Don't miss out on all things intergalactic when the 25th Annual UFO Festival comes to life this 4th of July weekend in Roswell, NM.

UFO FESTIVAL
Roswell, NM
July 2-4, 2021
25 Celebrities Who Have Stayed at The Historic Hotel Paso del Norte
The 11 Tallest Buildings In El Paso