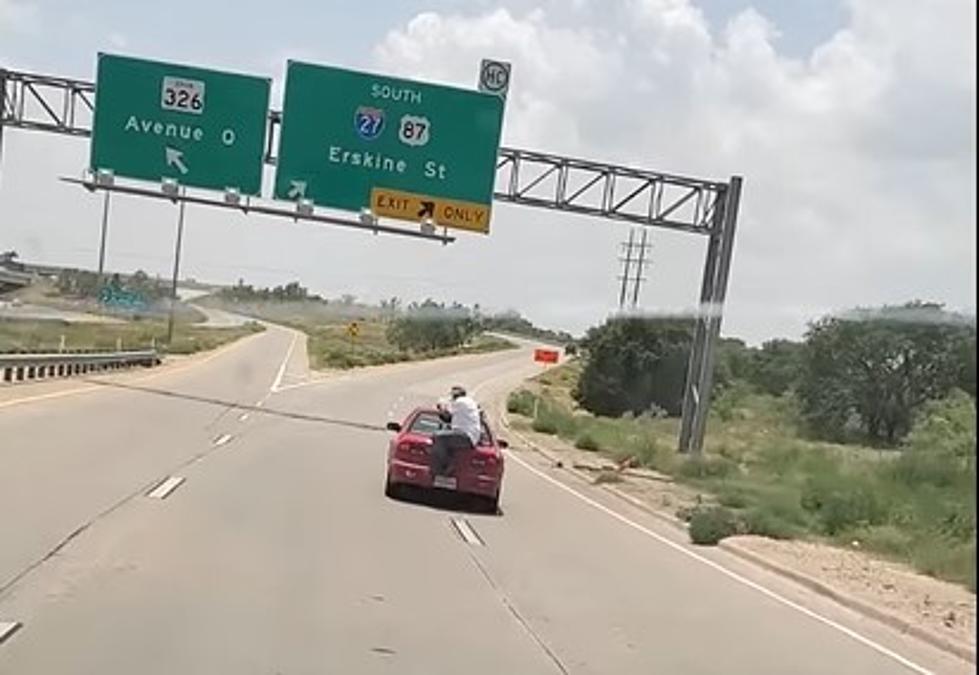 Video: Lubbock Idiot Rides on the Back of a Car Down Highway
Keith Wier via Facebook
I bet that was a smooth ride.
A video of a man riding on the back of a red car down highway while holding onto what looks like building supplies is making its way across the internet in Lubbock today. It's a pretty stupid thing to do, but it certainly makes for an entertaining video, and that's what we are all about here at 94.5 FMX.
Most of the commenters online agree that riding on the back of a car like that is 100 percent asshattery, but some of them seem to have some sympathy for the man who can be seen smiling and waving on the back of the car. He makes it look pretty easy.
Here are a few of my favorite comments so far:
"Why women live longer...."
"Do what you gotta do I guess"
"Now that's dedication to get the job done by any means. Lol"
"Where there is a will there is a way."
"Lumber is expensive - can't risk losing it!!! #whateverittakes"
"I mean, it looks like he is either going to work or going to fix something at home. Either way- if there's a will there's a way. Can't fault them for that. But, we have units on standby when it goes wrong." 
Have you ever attempted something this stupid? Did you get caught? Comment below or on our Facebook page if you found this video hilarious or have a similar story to share. I'd love to hear it.
Oh, and next time, guy...call your buddy with a truck.
---
These 180 Kids Have Gone Missing in Texas in 2021
Luxury Castle Airbnb Experience in Wolfforth, Texas
This 5-bedroom, 10-bed, 4.5-bath home is available for rent
on Airbnb
. For $781/night, you can live the fantasy life of your dreams in this mini-castle near Lubbock, Texas.
LOOK: 15 Discontinued McDonald's Menu Items
KEEP READING: Here are 6 foods from your cookout that could harm your dog