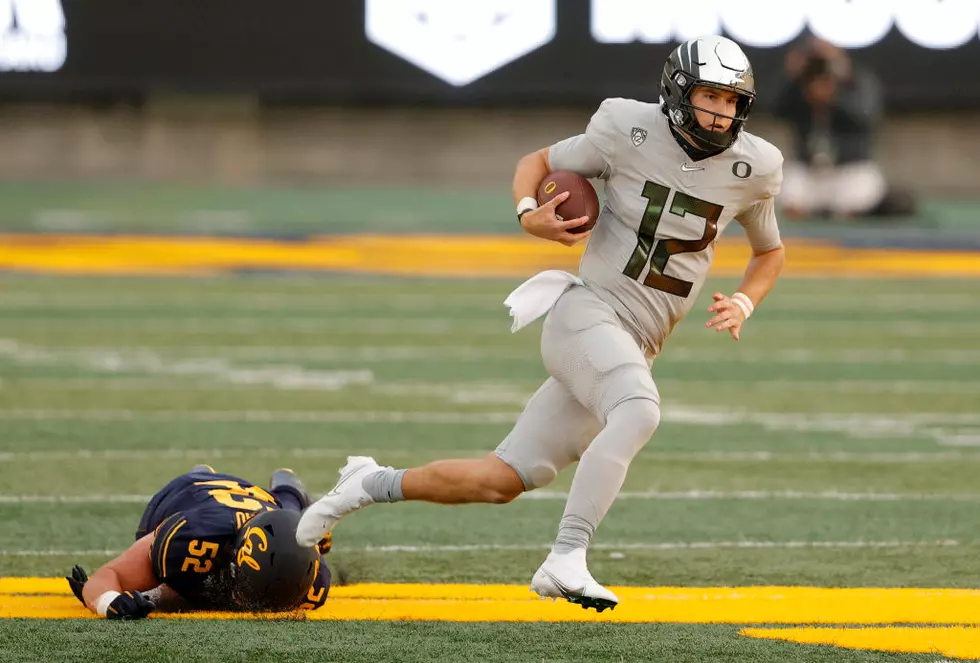 Who the Shough Is Texas Tech's New Quarterback?
Ezra Shaw/Getty Images
First of all, I don't know who is going to start for the Red Raiders when they line it up against the Houston Cougars down at NRG Stadium in Houston, Texas at the College Football kickoff or whatever they call it, but I do know that you don't specifically talk about throwing it deep and being versatile and then bring in a deep ball thrower to just look pretty.
Cue Tyler Shough's music.
FYI, Shough is pronounced 'Shuck,' so add that to the -uff, -off, -oo, and -oa pronunciations you were already using for -ough. It's an Americanized spelling of the name Schau or Schoch and originated in Bavaria. The first confirmed Shough in America was William Shough, who came to Virginia in 1707. At least that's what the internet told me.
Shough was at Oregon for two seasons, backing up Chargers QB Justin Herbert as a true freshman and then starting in six games for the Ducks in 2020's shortened season. As a Duck in his two seasons, Shough played in a total of 11 games, completing 64.8 percent of his passes for 1,703 yards, 16 touchdowns, and six interceptions.
As a starter last season he threw for 1,559 yards, 13 touchdowns, and six interceptions and rushed for 271 yards and two scores.
Shough is a genius, relative to me, and already has two degrees from Oregon and will head to Lubbock as a grad transfer to start on his masters. Before committing to Texas Tech, Shough had talked with Penn State, Arizona, Nebraska, Auburn, Washington State, Illinois, and Oregon State. Out of high school, it was Oregon, Alabama, and all the Ivy League schools. Literally all of them.
Shough threw nine passes against Iowa State in a Bowl game loss in a game that he didn't start. He was 7-9 passing with zero touchdowns and a pick. Here are those highlights:
Here's a more complete rundown of highlights from his full season as a starter:
The Oregon fan base was pretty sold on Shough before the season but had faded on him late preferring his back up to become the starter moving forward. Shough made that decision easy by transferring out and heading to Texas Tech.
With the announcement coming after school has started for the semester I'm assuming that Shough will be here in the Summer, but I do not know that for certain. If he's available for Spring football he's got a great chance to win the job heading into the Fall. If he's not here in the Spring, Colombi and Morton will have a leg up in the competition.
20 Striking Photos From Across Texas During Winter Storm Uri
Texas was hit hard by Winter Storm Uri, a polar vortex which led to millions being without power for days in constant freezing temperatures. These photos show the good, the bad and ugly of the crisis.