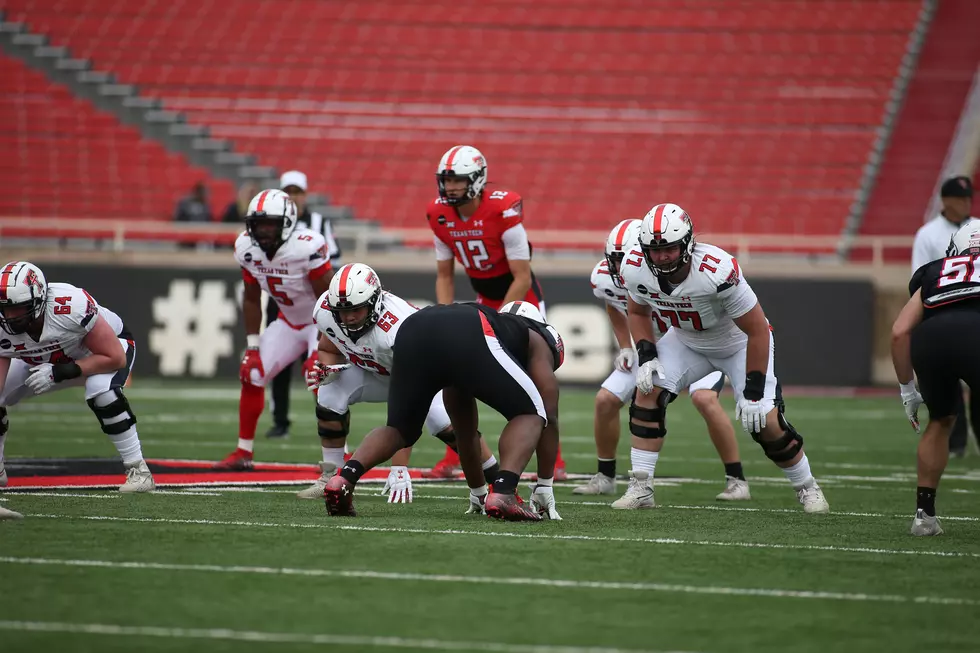 You Can Attend Texas Tech's Next Scrimmage In Person for Free
Paul Roberts, kkam.com
The Texas Tech Red Raiders have a ton of new faces this season. A lot of the new faces on defense will be transfers from other universities, don't forget about the offensive transfers either in the left tackle, quarterback, and receiver from Troy.
Maybe because of all the new faces, or just because they missed everyone being involved last season because of COVID-19, the Red Raiders are inviting you to practice. Yes, you. In fact, they are inviting everyone. Fans will get their first glimpse at the 2021 Red Raiders on Aug. 21 when Texas Tech hosts its Football Fandemonium event inside Jones AT&T Stadium.
The Fandemonium event will be sponsored by Whataburger and feature a 90-minute scrimmage beginning at 2 pm on Saturday, August 21st. Beginning at 12:30 pm, fans can also enjoy inflatables and live music outside the stadium leading up to the scrimmage.
The scrimmage will be the Red Raiders' final scrimmage of the fall camp before they really start focusing on the Houston Cougars who open their season at NRG on September 4th.
The Football Fandemonium event is free to all fans and parking will be available in the commuter lot immediately west of Jones AT&T Stadium. Texas Tech will allow fans to enter through Gate 1 on the southwest corner of Jones Stadium and want you to sit on the west side of the stadium bowl.
There won't be any in-depth scouting that you'll be able to do at this scrimmage and they more than likely won't make any big earth-shattering announcements like a starting 11 or show you what the Cumbie offense is going to look like exactly, but you will get to see Tyler Shough and Behren Morton in action. The defense will feature all of their new faces too. And, it'll be a fun atmosphere before and during.
19 Examples of How Texas Tech Football Players can Make Their NIL Money
With the NCAA unlocking Athletes' ability to make money on their NIL, I'm stepping in to help match some Texas Tech football players to mostly local businesses. From Tyler Shough to Austin McNamara, everyone will have a chance to get their hands on a deal if they work it right.
I believe some of these deals are worked right. Here are my ideas.
18 Interesting NFL Games That Lubbock Will Be Begging Watch
That's right an NFL game from every week of the season that you'll want to watch.
Some weeks better than others.
Meet Your 2021-22 Texas Tech Red Raiders Basketball Team, So Far.
The roster isn't done yet, but here's where Mark Adams and the gang are right now.
See What Texas Tech Looked Like in 1947
Throwback: See Texas Tech in 1947