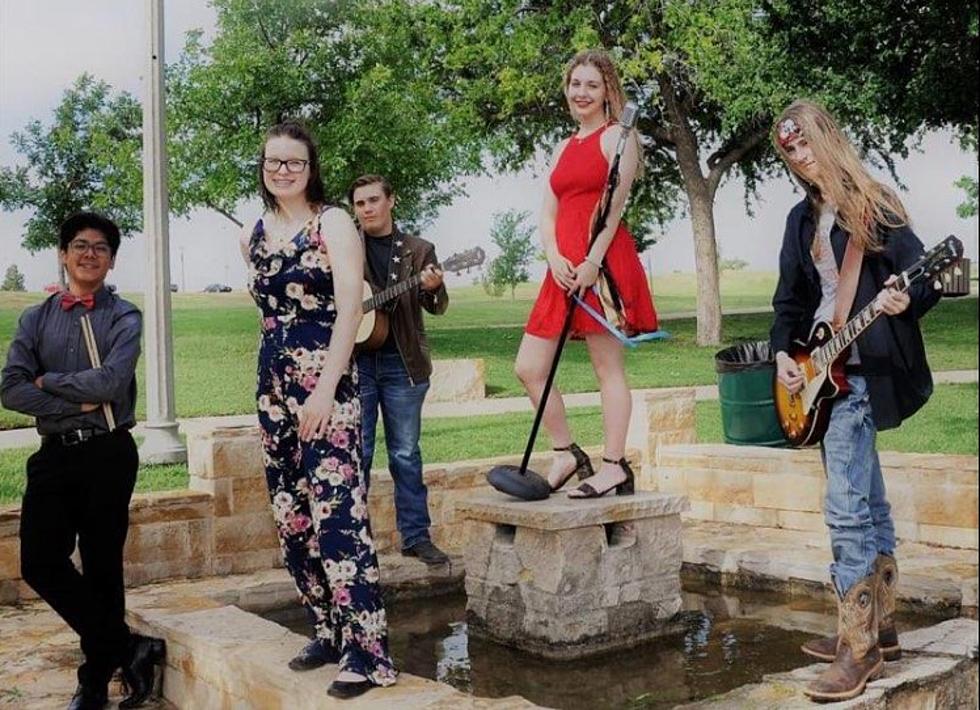 All About Alice: The Teenage Band Taking Lubbock by Storm
Katie Scholl
All About Alice, a band solely comprised of teenagers, has been making their way across the music scene in Lubbock, playing everyone's favorite cover songs as well as their own original material. Each member of the band derived their interest in music through very different artists. The teens incorporate all of their favorite styles to create their own sound and tribute to the greats.
The lead singer, Katie Scholl, was inspired by her love for musicians like Janis Joplin, Dolly Parton, Taylor Swift, and Annie Lenox, which is very evident in her voice and in her stage presence. You wouldn't believe she is only 16 years old with the confidence she exudes on stage. Her bubbly personality is quite the crowd-pleaser.
Drummer Noah Luna said that he looks up to local performers in the area like Dustin Garrett and Darren Welch, and aspires to be locally famous just like them.
Lead guitarist Jace Brooks told 94.5 FMX that he never planned on playing the guitar but that as soon as he picked it up, he just couldn't put it down.
Jack McClanahan plays rhythm guitar as well as banjo, and it's no surprise that he's a fan of musicians like Johnny Cash and Willie Nelson when you hear him sing.
Bassist Dakota Hansen loves AC/DC, Queen, and all of that rock and roll we dig so much here at FMX. She gladly learned to play bass just to be in the band, and she is doing an excellent job especially for being so new to the instrument.
94.5 FMX had the opportunity to talk to them about their inspirations for their band's name as well as their own musical interests individually that come together to make All About Alice something really special:
"Three of us, Katie, Dakota, and Jace were best friends since about 6th grade. Katie's Uncle Larry took Katie out to a coffee shop in Brownfield called Krank Koffie for an open mic hosted by Eric Wauson. Kranks is a very unique restaurant/coffee shop and as soon as you walk in it's like you've fallen down a rabbit hole! The entire place from head to toe is Alice in Wonderland-themed. Well at the open mic, Katie decided to sing and ended up loving it. The next time she made Jace play for the first time in front of people and Dakota came too. Larry told Katie she should learn the bass guitar and Katie jokingly told Dakota she should instead and Dakota was ready to. She started lessons with Larry shortly after and fell in love. The three of us befriended Jack, at the coffee shop and started playing together. Larry and Eric, who are both music teachers had the idea to put the 4 of us in a band together. All we needed was a drummer so after searching we found Noah! To pay tribute to the place we met, we named our band All About Alice, after the Alice in Wonderland-themed restaurant."
The teens stopped by Twin Peaks to say hello to FMX at a remote broadcast and to invite us to their last performance at Prima Vista Event Center. It was great. They're on their way somewhere big if they keep at it. Thanks for inviting us to your show, guys!
Wes Nessman even added a sticker of yours to our collection in the control room, and that only means one thing: You guys are rock stars.
8 Awesome Things to Come Out of the 1980s