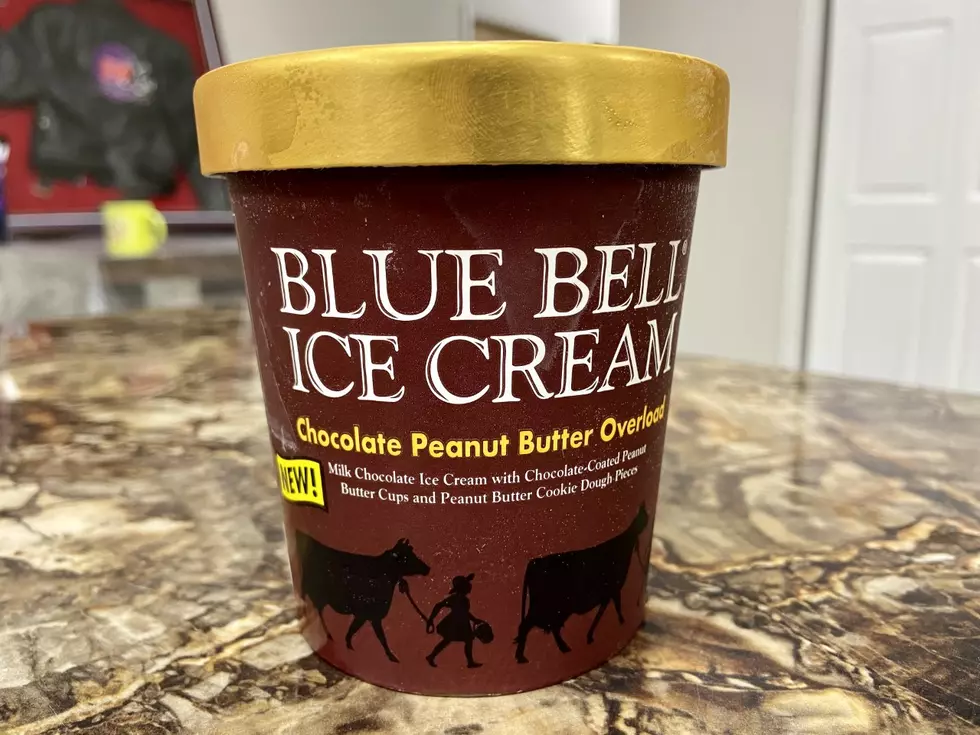 Blue Bell Just Invented the Best Ice Cream Flavor Ever
Justin Massoud, Townsquare Media
I have a confession to make: I have not always been loyal to Blue Bell.
I once found myself in an emergency situation. I was too lazy to go the store and I was out of ice cream. It was at that time that I found my favorite flavored ice cream ever: Raspberry Rumble by Schwann's. I guess I should define "flavored" because they all have "flavor." I'm talking about ice creams outside of the usual vanilla/chocolate/strawberry box. I feel like I have to make this distinction because anyone who doesn't think Blue Bell Homemade Vanilla isn't the best has a flavor-screw loose.
So let's get on with it. Raspberry Rumble was my favorite. But my new favorite is Blue Bell's latest release, Chocolate Peanut Butter Overload. Holy smokes, I can't even hardly write the name down without quivering.
Here's the description from the Blue Bell website:
Our smooth Milk Chocolate Ice Cream loaded with chocolate-coated peanut butter cups and peanut butter cookie dough pieces
Can you even believe they went with such a simple description? It so undersells this incredible ice cream. Here's what the description should have said:
Our legendary deep, rich, and smooth Milk Chocolate Ice Cream is brought down from heaven on the backs of angels where it is mixed with chocolate-coated peanut butter cups by naughty little devils who eventually seek salvation through the introduction of peanut butter cookie dough pieces. The result is an ice cream that is biblical in its complexity, both too sinful for heaven and too heavenly for hell, yet still taking the throne as mankinds greatest creation ever.
Yes, this ice cream is THAT good.
24 Lubbock Restaurants That Locals Totally Crave
Looking for a must-try restaurant in Lubbock? You've come to the right place.
6 Reasons Why Lubbock Is Nasty