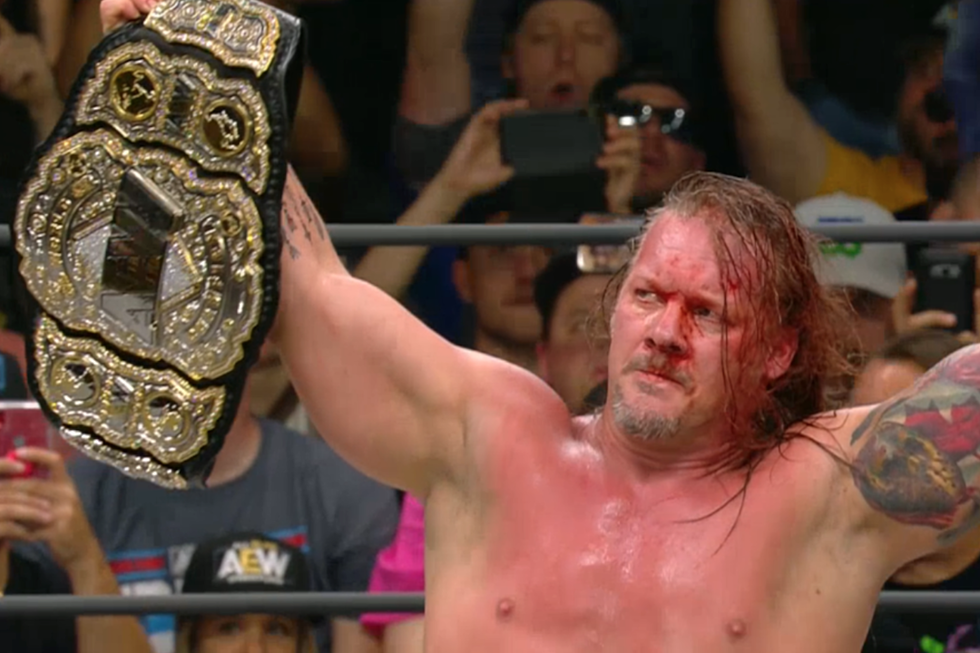 Chris Jericho's AEW Championship Belt Stolen, Investigation Launched
Bleacher Report Live
Update: Police have recovered the title.
Wrestler and Fozzy frontman Chris Jericho was reportedly the victim of theft over the weekend when his AEW World Championship belt was stolen, TMZ reported Tuesday (Sept. 3).
Although a police report was apparently filed, the entertainer issued a video launching his own "worldwide investigation" into the crime and warning the perpetrator of the consequences. Jericho became All Elite Wrestling's first-ever world champion following his win over "Hangman" Adam Page at All Out last week (Aug. 31). Watch Jericho's video message toward the bottom of this post.
"Hi, I'm AEW Champion Chris Jericho," the entertainer relays in the clip, while shown relaxing in a backyard hot tub. "And, unfortunately, less than 24 hours after I became the first AEW champion — with blood streaming down my face, after one of the hardest matches I've ever had in my life — some lowlife scumbag committed grand larceny and robbed me of the AEW Championship."
He continues, "Now, as I sit here in my palatial estate, my beautiful mansion, getting ready to have a little bit of the bubbly, I'm just imagining what I would do to that son of a bitch if he was here right now. And as a result, I am launching a worldwide investigation using the top private investigators in the world today to find out who committed this crime."
Jericho filed a police report in Tallahassee, Florida, Sept. 1, claiming the belt somehow went missing between the time he landed at the airport and when he traveled to Longhorn Steakhouse for food.
According to the police report, "The limo driver shuttled the victim to Longhorn for dinner. The victim remained at Longhorn while the limo driver returned to the airport. The victim had taken the wrong luggage from the airport and the driver took it back to the terminal. When the driver picked up the victim from the restaurant, the belt was missing."
Responding officers unsuccessfully searched the limo and airport for the belt. TMZ noted it's unclear if the "stolen (or lost) belt was the new AEW belt Jericho won on Saturday … but it's likely it was."
However, Jericho ends his urgent video with a playful invitation. "Trust me, as the AEW Champion … I promise to regain and restore and find and reclaim the AEW Championship," he says. "And once again give you another reason to finally give me the 'thank you' that I deserve. You're welcome."
25 Awesome Celebrity Metalheads