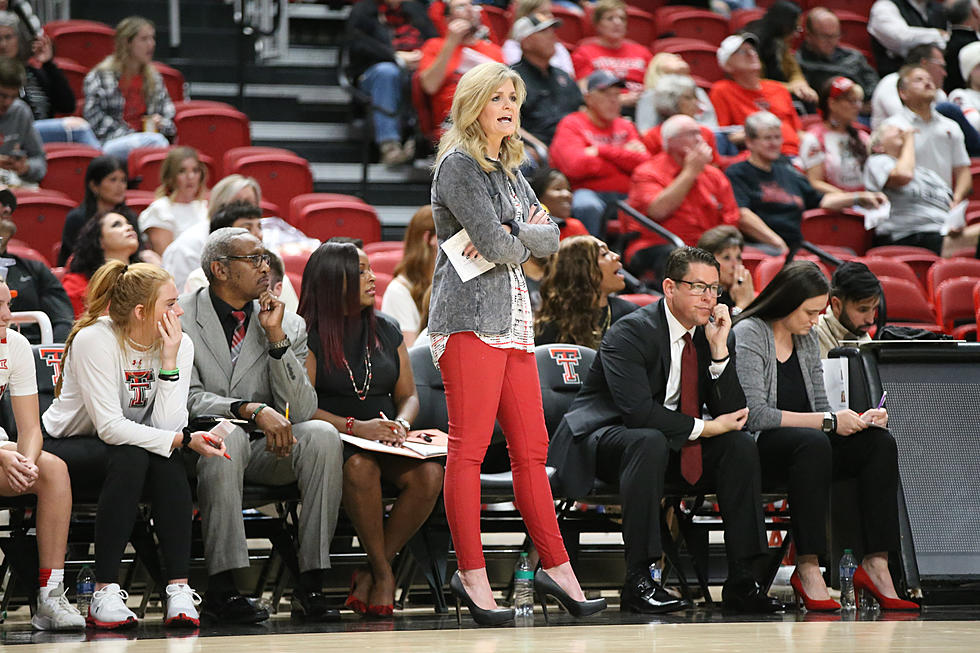 Coach Gerlich Reflects on Perspective With Lady Raider Player's Family in Ukraine
Paul Roberts, KKAM.com
The Texas Tech Lady Raiders won their final home game of the season 83-79 against TCU on Senior Night while honoring Taylah Thomas, Lexy Hightower and All-American Vivian Gray. It was a great win for the Lady Raiders who've had close wins all season long, but haven't been able to consistently put away Big 12 opponents.
The atmosphere shifted a bit in the post-game presser though as Lady Raiders Head Coach Krista Gerlich opened her time at the podium with a staggering statement.
"I'm a little shaken up right now because there's some perspective happening in our program right now," Gerlich said, explaining that some cousins of freshman Lana Wenger are stationed at a base in Ukraine that was bombed during the game.
Wenger was born in Santa Monica, California, but on the Lady Raiders roster claims her hometown as Hersberg, Switzerland. To learn that news and be so far away from family has to be even that much more difficult.
Gerlich then asked for prayers and expanded: "Perspective, right? I mean, we're playing a game."
That's a lost point so many times in sports, especially in college sports. Fans and teams often act like results are life and death when there are much harsher realities in the world than losing or being fired from a coaching job.
Gerlich continued, "As a coach, they don't train you for this."
I can't imagine the locker room atmosphere that's normally so raucous after a win to be immediately shifted back to the reality of war, especially when the war is in a far away place. Connecting family to the harm brings an extreme level of realness. Players and former players talk all the time about being a family and creating bonds, so I know that the other players in that locker room are just as concerned for Wenger's family as she is.
LOOK: 50 images of winning moments from sports history
Sometimes images are the best way to honor the figures we've lost. When tragedy swiftly reminds us that sports are far from the most consequential thing in life, we can still look back on an athlete's winning moment that felt larger than life, remaining grateful for their sacrifice on the court and bringing joy to millions.
Read on to explore the full collection of 50 images Stacker compiled showcasing various iconic winning moments in sports history. Covering achievements from a multitude of sports, these images represent stunning personal achievements, team championships, and athletic perseverance.
Texas Longhorns Beat Lady Raiders in Lubbock
The Lady Raiders Fall Short against the Cowgirls of Oklahoma State